You don't need to be a photographer to be a good gardener in fact you don't need to even have a camera but it helps enormously to display your garden at its best moments throughout the seasons if you can take some nice photos and for me gardening and photography go hand in hand  .
My second hobby after gardening has been photography and I quickly progressed from my first instamatic kodak camera to a compact canon back in the late 1960's until I made the step up to 35 mm with my first SLR which was a Pentax . Back then there were five major camera systems, Canon, Minolta , Pentax , Nikon and Olympus but really then as now you were in one  of two camps  i.e. Canon or Nikon and I have been a Nikon man since I bought my first Nikon SLR in 1976 .
Currently I have an SLR Nikon 5000 which I use at different times depending on the situation with a 50 mm , 28 to 80 mm zoom or an 80 to 200 mm  zoom .   
The introduction of digital photography has transformed how we use cameras since 2005 and you can shoot as much as you like then edit down to few photos you might want to retain . I carry the camera with me each day in the garden as the light changes constantly and of course in your own garden you have all the best camera angles worked out in your mind .
I used to also carry a compact camera with me and  occaisionally still do for snap shots of animals in the garden where you don't get a second chance of that special moment when a deer or badger might wander into view but  I prefer the quality I get with an SLR  for all serious photos where I can capture the exact lighting and composition and even though it is heavier and more bulky to carry around than a compact I prefer the extra quality over portability every time .
When Flossie , our dog , by a miracle actually caught a rabbit , my compact recorded the moment as she walked past me smirking triumphantly as if to say when did you ever chase down one of these ?!!
  Flossie adopted us twelve years ago and we shared her with Irene & Liam Maber , our neighbours who were her real owners . 
We loved her to bits  and Flossie came everywhere with us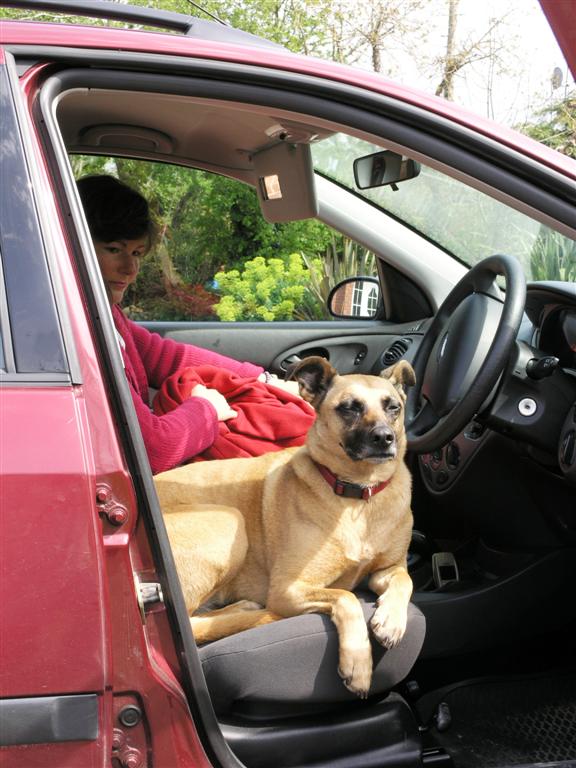 she slept in the bedroom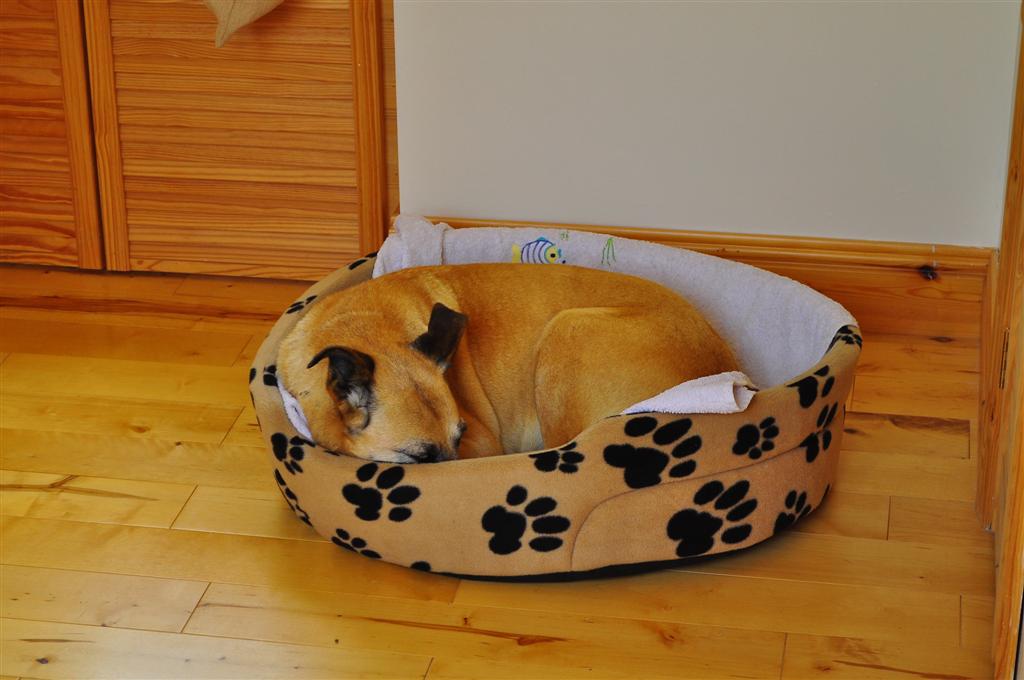 She was naturally vigilant as you can see from her normal fierce defensive position !
Sadly Flossie passed away two years ago and is buried in the garden .
We miss her a lot .