Visitors to the Garden this week , Diarm O'Riordan and Pearl Lye Yee Suen .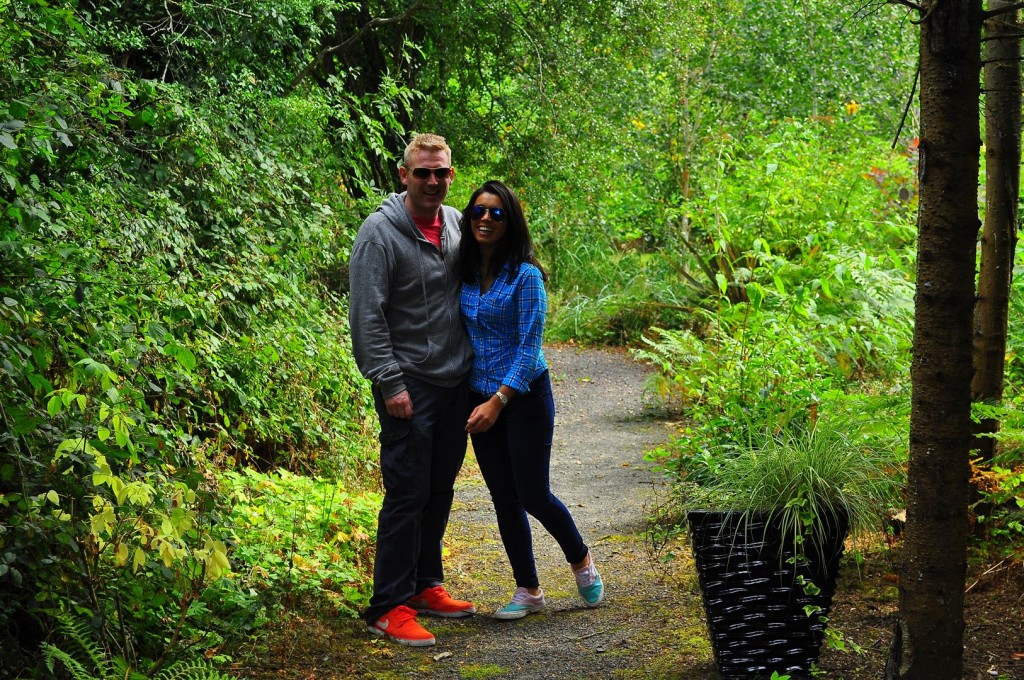 Sometimes in gardening as in life , when you are least expecting it you may stumble onto something magical and so it was today during a visit to Glenconnor Garden Centre when I first clapped eyes on a miniature cornus or dogwood called cornus Canadensis . This cornus is a dwarf  ground cover plant  , six / seven inches high plant that spreads by underground roots and wait for it ……. LOVES shade , LOVES wet areas and is so hardy it is a native of Canada ( hence the name Canadensis ) that it thrives in icy snow  and even thrives in Alaska … what's not to like !
Thanks to Susan at Glenconnor who brought it to my attention I have now started to introduce it here in some nasty places throughout the garden so watch this space to see how I get on !
I also picked up some nice healthy looking eucalyptus gunni , small at the moment but after a year they more than treble in size if you have selected the right location so no need to splash out on a tree size eucalyptus which will be four times the price . The right location is basically in as much sun as possible although they will tolerate some shade during part of the day and they are not fussy as to soil although excessively dry will not suit them and if this is what you have then you will have to water regularly .
Eucalyptus is one of my favourite shrubs/ trees and I say shrub because I pollard mine every spring back to half as otherwise eucalyptus will grow and grow into a tall spindly looking tree but cutting them back produces a beautiful two metre high shrub ….. another reason for cutting them back is this produces what is called juvenile leaf growth and  developes a bright glaucus green small rounded  leaf which looks really fresh throughout the summer …if not cut back the eucalyptus produces an elongated dirty green leaf which is not as pretty .
I use eucalyptus a lot in all my planting schemes as it is in leaf all year and provides great leaf contrast to its neighbours especially if cut back hard annually and I have never lost a eucalyptus tree in the garden no matter where I have planted it which is something I can rarely say about most plants and deer don't eat them  ! A native of Australia where it is almost the national tree it is also a great addition indoors to vases of flower arrangements and when cut the smell lingers for weeks and  there is a beautiful  aroma if you burn a log on the fire   …. and on top of all that the bark on a mature tree peels beautifully  so if you don't have one in your garden then buy one this week !
First of Autumn in the Garden …. October 1st 2014
As gardeners our tastes , like and dislikes , are all different and of course what grows for you may not grow for me and vice versa depending on soil conditions etc. and so often I admire plants  in other peoples gardens which won't grow here and I was reminded of this a few days ago when I visited Pauline Hegarty's garden outside Clonmel and saw the magnificent mature specimens of snake bark maples and  tree ferns that she and Pat have growing   …. I wouldn't even attempt these here as the deer just eat them to the ground overnight .
As a gardener you do the best with what you have but at the end of the day your choice of styles , be it perennials , wild gardening or cottage annuals , is practiced for your enjoyment not for anybody else's and if you like it … well that is the main objective that you create YOUR oasis of green that you feel good in …. and as Pop eye says I yam what I yam what I yam !!
All this week I have been tackling a job I have been putting off for months ….. you know the feeling , it has to be done but is so tedious that you can't face it …. This was one of those gardening jobs and to make it worse it was a problem that I had caused myself …… a border in the lower garden by the silver birch walk had got infested with deep rooted weeds and no matter what way I tried to clean it nothing worked long term and the plants just got choked and it was painful to look at it with the result that I avoided walking past it . Originally when I cleared the area four years ago of bramble I was in such a hurry to replant that I neglected to fully prepare the border and eradicate all the deep rooted brambles and perennial weeds with the result I was on the back foot from day 1
A further problem was that I replanted not really knowing the ground which had always been covered in brambles and so it was always going to be a problem for a few years until all their root system was weakened ( you can never really eradicate brambles once they have taken hold ) plus I hadn't realised that the ground  was bone dry throughout Spring and Summer so a lot of the plants such as rodgersia did not do well as I did not have a water supply in the area and any regular watering would have to be wheel barrowed down a few times each week so I basically did a twice yearly hands and knees job weeding operation and left it to its own devices and then in the last two years I even fell behind with that weeding regime with the result that drastic action was called for other than my then normal routine of closing my eyes to the weeds as I walked past !
Not all doom and gloom however as some plants flourished such as rhus sumac ( the stags horn antler tree / shrub ) , pampas grass , a rhus cotinus and some miscanthus but these were near the top of the border which is wetter along a water drainage canal whose banks I planted with  hostas and big clumps of the arum lily all of which have grown spectacularly over the past three years .
I took the drastic action required  six weeks ago and blitzed the rest of the border with round up , a total weed killer and that cleared out the weeds and overgrown areas back to bare earth which actually looked quite nice around the silver birch trees rather than the densely planted way I had originally planted and I will leave it like this because the ground is so dry .
I mentioned the rhus sumac tree which is commonly called the stag horn or antler because in winter when the plant has lost its leaves , the branches are soft and velvety to touch and are similar to stags antlers  … also it suckers like mad around the main plant so you can easily get offshoots and transplant to other areas and the final bonus is that in autumn the dying leaves are golden and light up the garden .
While I was up to my tonsils in weeds and brambles , Snezana tried her hand at peace keeping in the garden ….. not successful as minutes later Toby had chased the cat up into a silver birch tree !
This week I visited the Irish National Ploughing Championships held in Stradbally , Co. Laois and saw for the first time the old fashioned art of ploughing with horses , a world which vanished commercially over fifty years ago  with the arrival of agricultural tractors . Up until now like most people not involved in farming I viewed ploughing in the old fashioned way with horses as almost romantic but far from romantic it was as this was hard work of almost blood sweat and tears proportions . It took a team of three men to operate the plough , one to hold and guide the two horses , one to hold the plough straight to the ground and one man to carry an array of wrenches and spanners which he constantly used to tweak the wheels of the plough … as one farmer put it to me .. romantic my arse !
The horses are enormous , mainly shires , Clydesdale or a mix of both and cost in the region of five thousand euros each , are matched for life with one always on the left and the other always on the right and as another farmer put it to me … would ate half a parish !
The work required stamina from both men and beast and in order to plough one acre took eight miles of walking behind the plough … I was mesmerised by it all , the beauty of the horses , the effort and skill it took from the men and I can now begin to understand the bond that must exist between a farmer and his land which one farmer told me had a rhythm all of its own … a rhythm which now living in the city he misses every day .
The National Ploughing Championships is an annual event each September which lasts for three days , attracting daily attendances of over 100,000 and  is the high point of the Irish farming year , a place where farmers from all over Ireland can meet , discuss trends , preview and buy new equipment … a feature for me was that 95 % of the people attending are Irish which is unique in this age of diversity and for someone like me who was away from Ireland for nearly twenty years it was lovely to hear all the different county accents  …  north and south seem to dominate  but also a reminded of just how nice farming people are …. that is not to imply that tourists are not welcome , far from it , just that this is the Irish Farmer's equivalent of the Chelsea Flower Show and they come out in huge numbers to support it and are real people not like the fly by night gardeners and Hooray Henrys who love to show off their green credentials by attending Chelsea !!
I like this competitor's philosophy !
I spoke to  participants in the ploughing and even to a few of the competition judges , all of whom were delighted to chat with this " townie " and educate me in the finer points of ploughing with horses , the joys and hardships of the land and  in return I got a chance to tell my own favourite Irish horsey story ….. that at the battle of Waterloo in 1815 both Napoleon and Wellington's horse were Irish ( Napoleon's horse was called Marengo and Wellington's was Copenhagen ) …. and not only that but they were also half brothers both bred in  the village of Wellington Bridge , Co. Wexford … the horses that is not Napoleon and Wellington !
You might be wondering  at this stage what the Irish National Ploughing Championships have in common with gardening …. well nothing really apart from the fact that both in their own way celebrate nature  … and horses eat plants …… OK I am struggling here to come up with an excuse  but I loved the experience and felt the need to share it with you but I promise in future at least never to write about Morris dancing and Sean Nos singing  !!
This farmer  was keeping an eye on the " youngsters to make sure they were keeping up the tradition !
In the lower field we " borrow " a view across my neighbour's land to a line of ancient oak trees which were planted over 120 years ago and Sebastian very kindly coppices the willows on his side to allow me the view both of the oaks but of Sliabh na Mban mountain in the background . Both mountain and oaks are interesting … the oaks were planted as acorns in the late 1800's by two spinster Quaker ladies who lived on the mountain road and who took is as their life's aim to preserve and propagate oak trees all over the area between our lane and the top road and they did this by planting acorns along every suitable ditch and boundary  and there are over 100 of their trees now at their peak for this present generation to enjoy … and of course from these trees generations of squirrels have spread more acorns and we have smaller oak self seeded all across the garden today .
Sliabh na Mban or Slievenamon as it is better known  ( the mountain of the women ) of course is one of Ireland 's most historic mountains with a fifth century BC bronze age tomb on the summit where according to  Celtic Mythology ,  Fionn Mac Cumhail , our Achilles and King Arthur rolled into one ,  is buried … the legend says that Fionn would  choose his wife  from the winner of a foot race up and down the mountain  ….Grainne the daughter of the High King of Ireland won the race … I have walked up and down the mountain many times … it is not easy and to run it …. well Grainne must have been quite a gal and of course she didn't stop running as she later ran off with his best friend , Diarmuid Ua Duibhna … !!!