The first hard frosts of the winter hit this week and while the autumn colours of the trees are still magnificent there is that drab damp feeling beginning to envelope the garden which is why I find the more primary colour you can inject into the garden through garden furniture etc. helps lift those gloomy days  .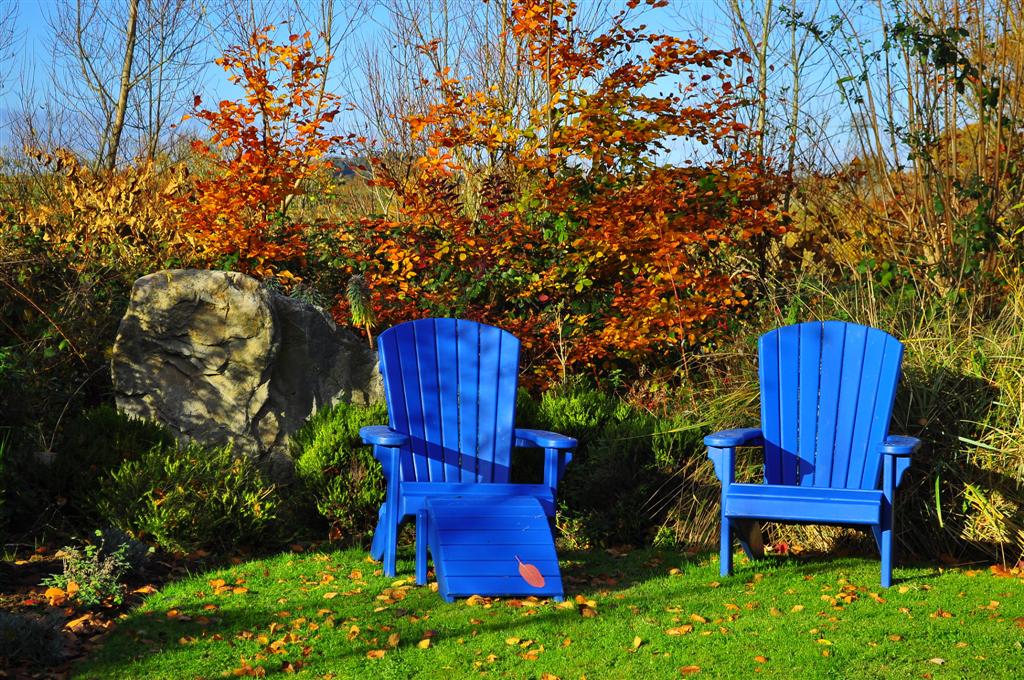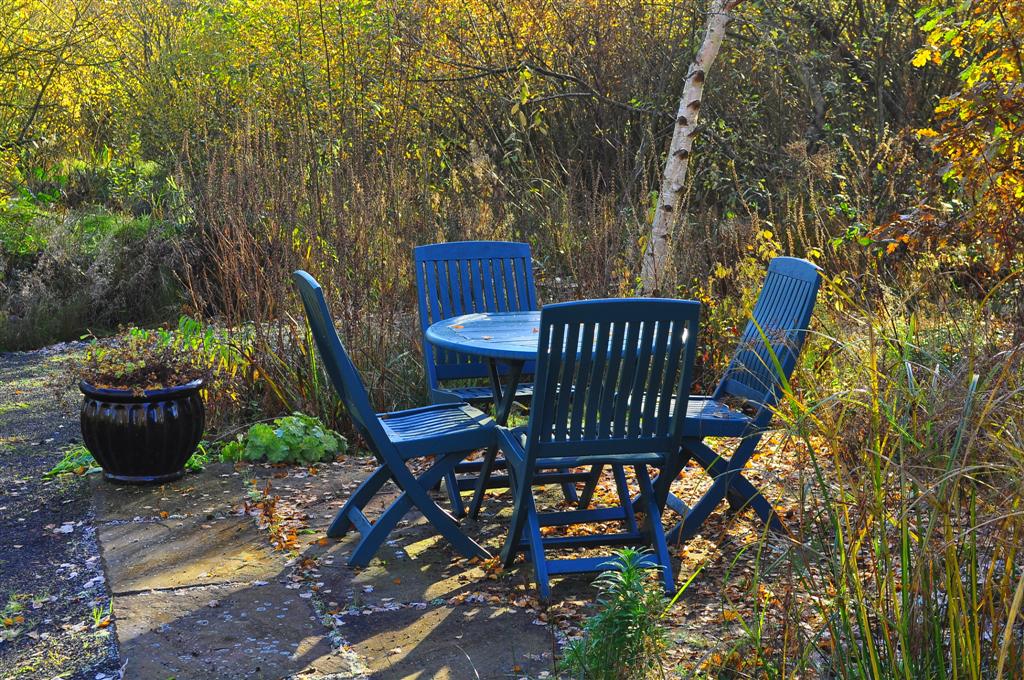 I can't claim credit for the yellows and blues that our wooden garden furniture now sports as I was force fed into those by Sanna . This injection of colour had started innocuously enough a few years ago with the purchase of the  odd red and black ceramic pot in the garden centres and while at first I thought them very odd indeed now I find I prefer the bright primary colours … we are not quite at the level of colour on display in the Majorelle Garden in Marrakech but getting there !
I visited the Majorelle Gardens in Marakech in March this year and the colours there are blue and yellow with even the pots painted blue and yellow. The ten acres of garden were created in 1930 by Jacques Majorelle , a French architect and cubist painter and the cobalt blue he created has been named after him .. majorelle blue  . Yves St. Laurent bought the house and garden in 1980 and when he died in 2008 his ashes were scatterred there ,
Tidied up the giant gunnera which were beginning to look unsightly after their magnificent display of foliage throughout the year with leaves up to five feet across . Years ago I read that the blackened leaves should be folded across the centre of the plant as this kept the worst of the frost and ice away from the corms underneath and you feel quite virtous doing this to protect such a fabulous plant which can be a focal point of any area  – a plant nevertheless not for the faint hearted or a small garden and they do need damp conditions to flourish … not wet soil mind you as they don't like having their feet wet  permanently but like water to be in close proximity where the roots can reach into . The down side of gunnera is that the blackened wrecks of such huge foliage in the winter can be very unsightly until growth starts again in early spring when the sight of the new fresh green corms pushing through the blackened heap of leaves always tells me winter is over ! I also like seeing the garden managed with as much cutting down of last year's growth  not tidied as a woodland garden such as this can never be tidy . I always leave the remains of miscanthus grass standing until spring when it is cut to the ground as the tall stalks add some structure to the planting areas throughout the winter .
There is still a lot of colour in the garden and of course water helps to highlight it .
 Invasive plants … I mentioned previously that like Christopher Llyod I like self seeding " garden thugs " but I should mention that certain wild plants should never be let loose in the garden as they can swarm and take over entire areas . Some years back when we first opened up the deep swamp in the lower wood area and flooded it with water I thought to introduce a lovely bright green aquatic plant , parrot feather ,  myriophyllum aquaticum , as it had a lovely leaf , big mistake as it took over in every water area of the garden and I am constantly trying to get rid of it . It is manageable in small man made ponds as it won't get a foothold in the concrete base and you can rip it out easily enough with a garden rake  but in a natural pond with a mud base it is disastrous .I managed after several months of spraying round up to kill it in the lower swamp pond but it keeps popping up and I blitz it again and boy has it a will to live …. of course Sanna goes crazy at the idea of spraying round up on the water and I don't like it myself but if I don't  she will be able to walk across the pond's surface on a foot thick parrot feather leaves !
There is a good irish garden web site dealing with alien invasive plants which is worth a look if you have a problem plant http://invasivespeciesireland.com/     which takes over an area of your garden but be especially careful with pool plants as they seem to be from Mars and want to take over the earth !                                                                                           
I have been working since early August on a new planting  area in the lower field  which when finished will be made up almost entirely of ornamental grasses with a wide variety of miscanthus and  pennestetum . I have interspersed two varieties of pampas grass into the mix for extra height , normal pampas ( Cortaderia selloana )which blooms in winter and variety Christophe which blooms July/ August . The advantage of the pampas is that they maintain leaf and therefore structure throughout the winter when miscanthus is reduced to just a stark outline . Each variety has been planted in groups of three or five and I have also added some single bamboo clumps to add structure and perhaps I am being too optimistic with the bamboo as the varieties planted are the golden and black versions which traditionally can be tricky enough to get to thrive as for me they have never been 100  % hardy in exposed positions so fingers crossed . The soil is good in this top end of the field , not too dry or wet just good loam so the new planting should thrive and thicken up over the next two years . This week I added the final planting with three dwarf bamboo which will add a link between the miscanthus and the taller pampas .
I use pampas grass quite a lot as it is usually trouble free , provides a good architectural structure throughout the year and in the winter its plumes light up an area , It likes damp conditions best but will do quite well in dry conditions but you need to have it mainly in sun … and the deer leave it alone which here is an added  bonus ! I don't prune mine apart from tidying up the plumes when they fall over but a clump can do with the occaisional haircut to the ground and it will come back as strong as ever . when I started in gardening the trusted country man's way of pruning pampas was to set fire to the clump and let it burn down to ashes but this method is hardly ever used now as it is messy and in a small garden a fire can get out of hand apart from  being potentially hazardous and doesen't do the neighbours washing lines any good ! Two winters ago I put some firelighters into a huge clump here down in the lower field and lit it … burned in minutes like I imagine a shed full of hay burns and that clump grew back bigger and stronger and is the best performing pampas here now so there is something in the story that the ashes create potash but I haven't had the nerve to do it since ! The pampas I like best is the summer flowering one which is called Christophe recardii and normally is very difficult to source and usually I buy it where I find it , everyone admires it here as it has the best structure of all the varieties , christophe  arches outwards unlke the common pampas which grows erect and the plumes in August until November are magnificent …. usually apart from Johnstown Garden Centre in Naas it comes in to most garden centres as a one off in the middle of their normal pampas order but this year Glenconnor has had it … if you see it buy it … that is if you see it before me !

There is still some nice colour in the garden and here are some photos I took yesterday, November 22nd 2013