This week Santa sent me a helper all the way from EULEX in Kosovo and it was a case of have a Happy Pruning Christmas !
Snezana as I have said previously has a deep aversion for learning the latin names of plants but is a demon for hard work , so give her a pruning shears and a slash hook and point her in the direction of overgrown brambles , trees in need of cutting back etc. and afterwards it is like the avenging Passover Angel  has walked through the garden !
This week I targeted an area that had got out of control over the past few years and turned into a wilderness of brambles , an area that also contains some nice trees and shrubs , a weeping silver birch , a weeping pear and a selection of yellow and red barked dogwoods and where wild iris has colonized itself .
It borders the pond in the lower field and had really gone over to the dark side of an out of control garden so drastic action had been needed for some time but for some reason I couldn't  motivate myself to tackle it until now so I did what I should have done ages ago   … I sent in Task Force Snezana !!
First I made sure she knew her way round the small wilderness by walking it as it is by the water  with boggy ground underfoot and a slip could lead to an early bath and secondly to realize just how much brambles there were and how dangerous they can be to the eyes if you don't be careful . You have to admire how tenacious brambles are to cling to life  and how quickly they root to propagate themselves and send out new shoots …if only this energy could be harnessed by some nursery and used with other plants !
It is not unusual for brambles to have underground roots of up to ten metres long and as soon as a shoot arcs back towards the ground it roots almost immediately and of course part of their survival technique is that they have vicious thorns and catch onto cloths , sweaters , hands and most dangerously to your face and eyes … the traditional nursery mans way to kill bramble is to insert a root into a jam jar of round up and let it soak up the liquid but I prefer the tradition of a slash hook , must be something in the DNA and there is nothing more satisfying for me in gardening than tearing into brambles with a long handled slash hook !
After two days hard work Snezana had reduced the brambles and the long grass and then went to work with the petrol powered strimmer which further reduced the area to stubble leaving us for the first time in ten years with an area of ground which we can plant up with a range of  bamboo ,red stemmed dog wood elegantissimus and some specialist golden / red willows which will be pollarded every year back to their base to produce  bright vivid bark colours .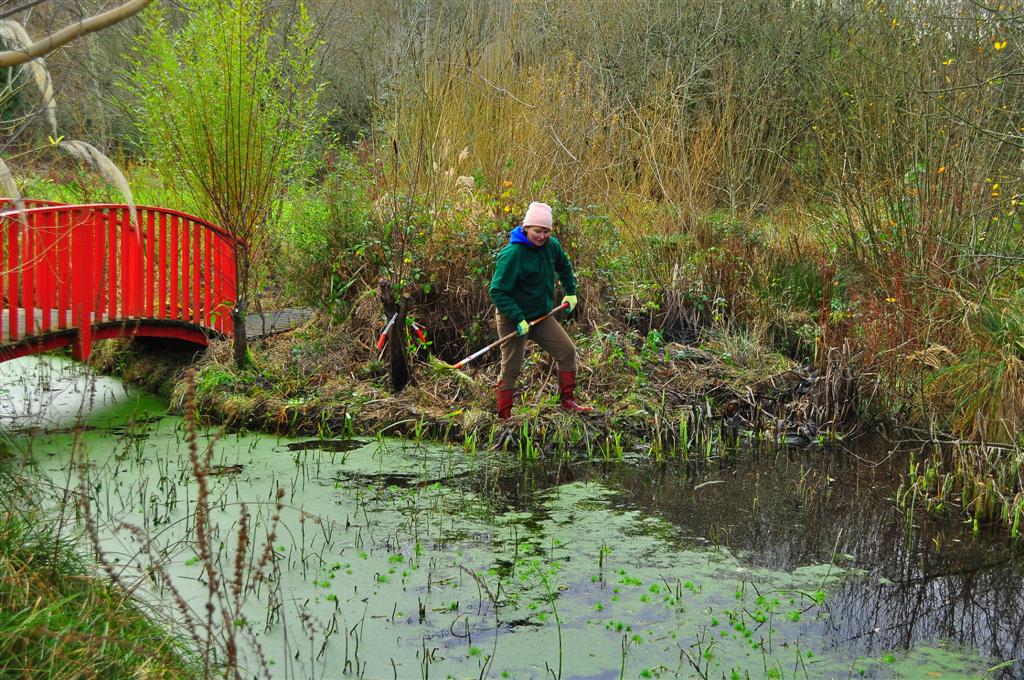 But before that we really had to make sure the ground was finally clean so it was hands and knees stuff for me to pull out by hand all couch grass and other weeds which had got in around the roots of the trees and shrubs in this area  followed by a good spraying of round up to finish the weeding and I will leave the area for a few weeks before planting in mid January .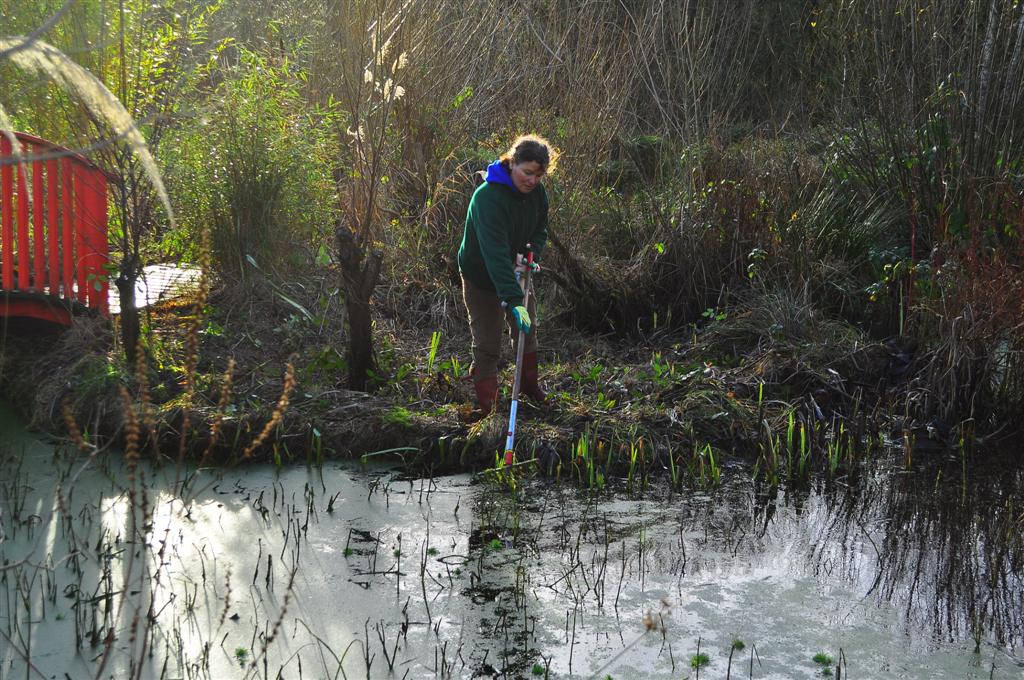 I know that using a systemic weed killer  such as round up is not to everyone's liking however there really is no alternative if you have either a large garden or have a couch grass, bindweed or similar invasive weeds . I use the dormant period December to end of February as a chance to spray around the roots of deciduous trees and shrubs as these have no leaves at that stage where the plant itself can be damaged and it is a great help to go into the next growing season with a relatively weed free base which of course benefits the plants themselves as weeds leach away at the soil and the nutrients … back again to my pruning mantra you have to be cruel to be kind !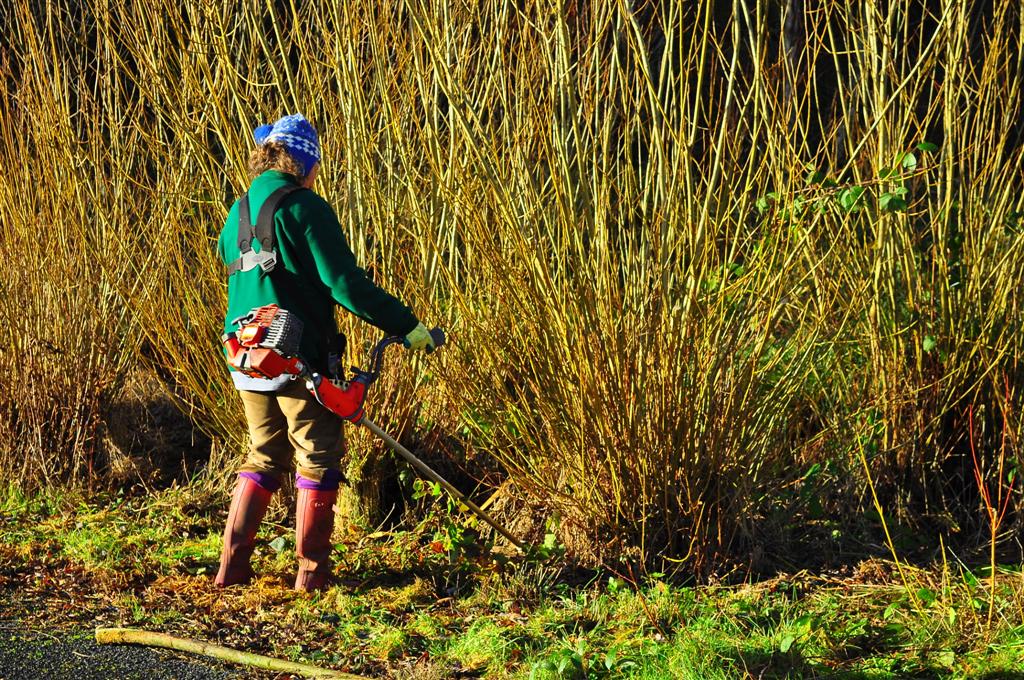 As it is the Christmas Season I have added some photos I took in April 2009 during a visit to the Church of the Nativity in Bethlehem together with  a photo of probably the first garden that registered with me as a child going to St. Mary's School in Clonmel  … the Garden of Gethsemane at the foot of the Mount of Olives where Jesus walked with his desciples  and I understand that while most of the current olive trees in the garden date from 1000 AD that some  are the very same olive trees from that fateful night in Gethsemane at Easter  33 AD .
The garden was given a christmas present of some nice finnish glass tea light holders this week courtesy of a Finnish colleague of Snezana's in EULEX Kosovo … thanks Marja !
A Happy Christmas and New Year  to all visitors both of the web site and throughout the past year to Petrovska Garden !