The September 2015 issue of The Irish Garden featured a six page illustrated article on the garden written by Shirley Lannigan and needless to say we were thrilled to see it publishe.
We had known of course for some time that  Gerry Daly as editor of the magazine had it in mind but nothing was definite even after Shirley came to the garden in July and interviewed Snezana and myself nor indeed were we given any advance notice until a friend rang early on the morning of August 21st  to say the September issue of The Irish Garden was in the shops and Petrovska garden was in it !
After a lifetime of reading about other gardens and gardeners to see yourself quoted was unusual and to realise that your garden was now shared with thousands at the breakfast table over the corn flakes as they read The Irish Garden ….. mind you I had always secretly hoped my first time in the media columns  would be along the lines of " Naomi Cambell sobs that she never really got over her Irish gardener   " !
Shirley did a great job with the interview and got all the salient points  about how we went about creating a garden  from what was essentially a swamp ten years ago and even though we do not nor cannot grow a wide palette of plants here due to the wet conditions , she still managed to list a lot of plants and trees to convey an impression of more variety than is actually here .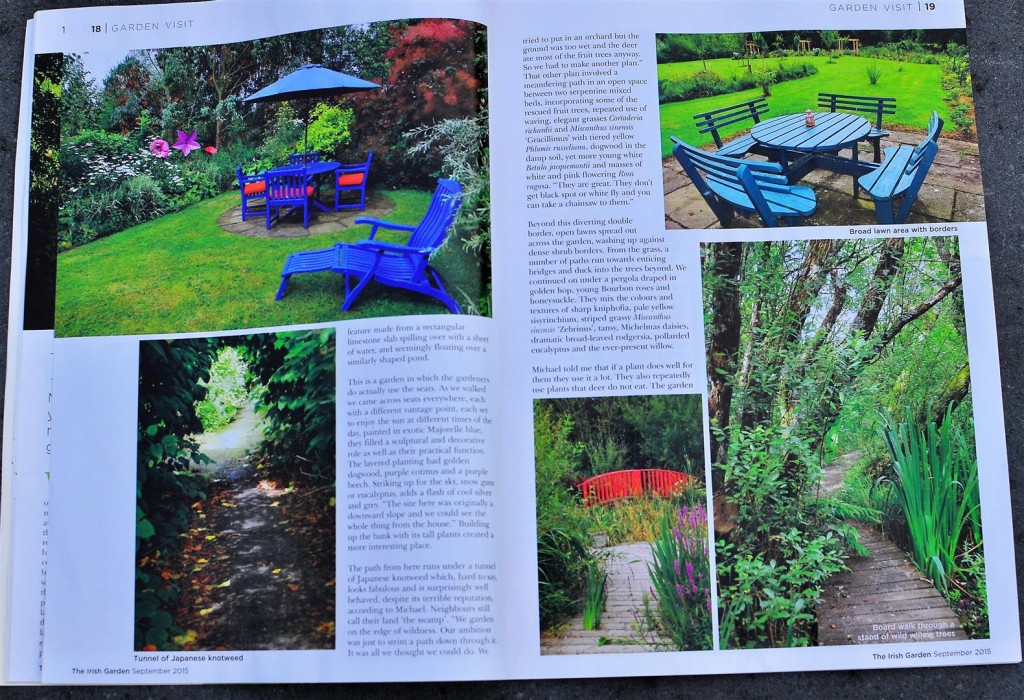 I have always thought that what we started from here when first walking through the gates and what was created with the land we bought is the real achievement  and that it is the narrative of how this garden was created that is the more interesting story rather than anything growing here and Shirley managed to capture that idea .
Gerry Daly, editor of the Irish Garden, took the photos to illustrate the article over a year ago during his visit here in July 2014 and as a photographer myself I am always interested in other people's take on the garden and Gerry in a few hours around the various paths captured some unique perspectives .
Even though I pride myself that I enjoy the garden and walk through it every day I have to admit that most days I walk through with a secateurs in hand watching for brambles to cut back and really what I am doing is looking out for what needs to be done and making a mental check list of what is WRONG with the garden !
Like the song says we need to stop and smell the roses ….. or the agapanthus  which is in it's pomp just now !!
I was making this point the other day with a gardener friend that we are too obsessive and should be able to let it go and at times like this I envy people like Snezana who can spend hours just enjoying the garden no matter that the grass needs urgent cutting like a week ago or that this area needs weeding or as we used to say in Ireland " not a child in the house washed " and I was reminded of this today when between jobs of cleaning a pond and weeding a patch , I had walked up by the stream and not heard the water tinkling over the small dams I have placed there to create the rippling effect  and I actually forced myself to go back and take the time to enjoy the natural sound of running water .
I recognise this obsessiveness in myself (at this point my kids will rush to say NOOOO Dad not so ! ) and that I can't relax while there are jobs to be done …. and as of today I have a new gardening  policy and  am chilling out about the garden  or in other words f…k the weeding / grass cutting !
Our neighbour's dog , Toby , on the other hand has absolutely no problem about relaxing in the garden !
Time to prune the lavender bushes which is a small job for me  ( I only have about ten bushes ) as I am snobbish about lavender in our climate as I am used to both growing and seeing it on the Adriatic coast where it thrives in its natural habitat unlike here in our wet climate where they invariably look bedraggled and miserable . Lavender needs poor stony soil to succeed but above all it needs lots of sunshine and given those conditions it is heavenly …… I hate seeing it in irish gardens a it looks so miserable compared to how it looks and smells in Provence or along the Adriatic / Mediterranean coast.
Pruning of lavender is best done in two stages , first in August / September after the July flowers have dried and a second cropping in late March and critically NEVER cut into old wood , always cut above active growth as old wood never regenerates ……. also lavender here is a short lived plant no matter how well maintained a it sits most of the time with wet feet .I cut mine hard back in September with a light cut in late March and this helps maintain a nice domed plant unlike the sprawling untidy mess it becomes if left unpruned .
In May when we laid the new paths through the top field  we used the excavated top soil to layer the wet wild flower area and build it up and throughout the summer I sprayed it several times to kill off weeds etc. as the plan was to eventually plant with golden leaf cornus … today I planted fifty five young rooted cornus plants which should thicken out in the next two years and provide a dual purpose bed of colour …. red bark in the winter and the golden leaf from Spring through to November . During the planting I left a metre wide around the edge of the new raised planting area and I will plant a selection of iris into this in the spring .
From September onwards it is safe to cut down brushwood or bramble areas as there will be no nesting birds and this afternoon I tackled the last area of wild brambles remaining in the garden and managed to reclaim 120 sq. metres of land with good soil …. nasty job and no matter how much you cover up , brambles find a way in to cling to ankles and arms … then there is the clean up and the burning afterwards ….. so a lot of self inflicted wounds this evening and by the way do NOT carry left over fire lighters in your pocket while the fires are still burning as the heat will ignite them ….. it starts with a hot feeling in your ass pocket …… followed by frantic hopping up and down and an impromptu al fresco strip all the time frightening the neighbours sheep with  manic howls  !
I have a few possibilities for the newly available clearance but will definitely use the opportunity to plant three specimen trees such as a silver birch jacquemontii , a specimen oak and perhaps an acre  and as the area is in full sun all day and little wind as it protected with lots of trees there is also room for another seating area of a table and chairs …. watch this space !
Early September evening light can be magical in that hour before sunset and on fine evenings I am out with the camera to capture a moment before the sun sets as it lights up various trees and shrubs …. I planted this catalpa or Indian Bean tree ten years ago close to the house  , tender enough tree which need shelter from both sun and wind and moved it a few years ago to it's current position in the lower garden … a magnificent foliage  tree and the only catalpa I have in the garden as it is not a tree readily available in the garden centres and miraculously the deer never touched it .
It is my one really unique tree in the garden , the huge leaves dies back every winter and even though not in the best location , soil wise ( dryish ) it is sheltered and in full sun all day … every day when passing the catalpa tree it gives me a lift just to see it  .
Are lawns on the way out ? Seems so at least in the UK where a recent survey shows that
" One in four homes now has no real grass in its garden as the UK paves over its green space, a survey has found.
As gardening falls out of favour with many Britons, households are choosing low maintenance alternatives such as paving, decking and AstroTurf – with almost three-quarters of adults saying that a lawn is a 'burden'.
One in ten homeowners now has fake grass, with two-thirds claiming they installed it because they do not have enough time to mow the lawn. And over half of the 1,000 homeowners surveyed would now choose decking, patio space or sheds over grass, while a fifth would prioritise a summer house. "
A pity as even though my grass areas are far from the perfect lawn I still love the look of newly mown grass and would happily use grass after shave if that smell of cut grass could be bottled !
Late evening light in September 
Recent visitors to the garden 
A word about a feature in the garden which is by far the most used , the most fun and the most popular with visitors ,…. the tree house .
For some reason I never seem to feature it in the garden photos except as a back drop and yet it is the place where we sit all the time and where visitors always end up and I was reminded of this lack of attention last night when asked to write a description of the garden for an irish magazine future publication and was asked to list amenities , structures etc. in the garden and I realised that the tree house although top of the list was neglected in the photographs …… no more , here it is !
Finally just before I posted this blog I caught the last of the evening light backlit  through the smoke bush . rhus cotinus and the golden ash , fraxinus aurea .