The garden is like a scene from Venice at the moment as large parts of the wood are under water from all the excess water coming off the mountain due to the almost month long rains we have had in Ireland .
Water always looks nice in garden photos and in the meantime it won't do any lasting damage to plants .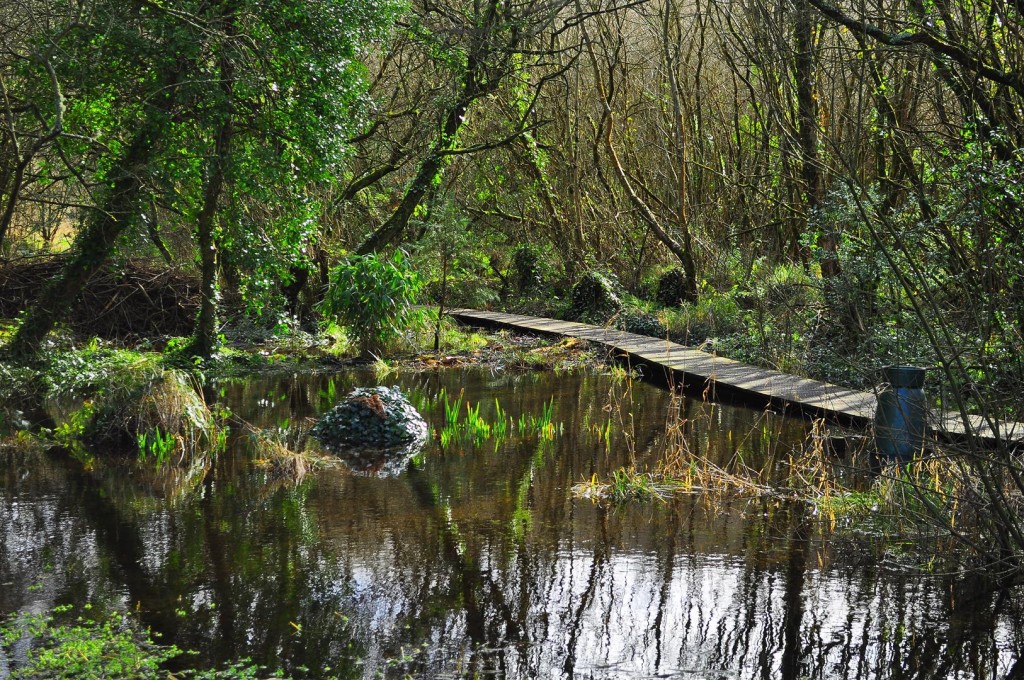 The hellebores are at their best right now and have many more weeks of blooming left in them .
There are still no daffodils in flower just now but they are ready to come on the scene in another week but there is still colour in the garden from the red and yellow dogwoods while the euphorbia wulfeni will soon be on the scene with their yellow bracts …. there is a ground cover euphorbia called myrsinitis which is evergreen and spreads about eight inches around , a gorgeous plant with glaucus olive green leaves which will grow happily in stony or gravel ground like it does in the wild, this variety can be scarce enough so grab it if you see it for sale and I usually get it in small pots in Johnstown Nursery in Naas but it will self seed … if it likes you !
I watched a TV programme on BBC last night about garden perrennials by Chris Beardshaw , a Gold Medal winner at Chelsea last year , and how they are in danger of going out of fashion . However so as not to frighten all you perrennial lovers out there I hasten to add that the point Chris was making is that the concept of long borders comprising solely of perrennials has gone out of fashion since the 1980's and is now only usually maintained at National Trust gardens in the UK . The main reason for this is the labour intensive nature of perrennials in large beds and the small army of gardeners needed to weed , stake , plant , divide , thin out and generally maintain these beds in good shape and health and that only the larger estates can now afford the costs involved .
Most gardeners now , myself included , go for large mixed beds where they grow  a combination of shrubs, small trees and perrennials . Personally I think nothing sums up the quintesessential garden than a long perrennial bed and I suppose the best examples are in British gardens such as Sissinghurst , Inverhue , Hidcote Manor however these planting schemes only come into their own in June and are in decline from September on and although I do love to look at such displays I am not prepared to accept such a short season for such an amount of work and there is nothing more dispiriting in my view than walking past a perrennial bed in winter when there is nothing but stalks to look at !
Also to be honest I don't regard the traditional perrennial bed as natural and see it as somewhat contrived with a rigorous design such as descending ranks of plants from the back to the front and there is nothing like that in nature which is a jumble of self seeding plants and while yes the end result is lovely but managed loveliness which if left to itself would quickly be over run with weeds, thistles and I much prefer the naturalistic wild gardening effect .
Added to which I do not have the nice soil needed to grow a wide range of perrennials successfully nor do I have an army of gardeners to help … only Snezana who won't as they say in Ireland either lead nor drive !