Visitors to the Garden this week !
I am often asked by garden visitors about colour combinations in shrubs and flowers and the more technical even mention colour wheels which are the bible for the serious gardeners who think it is heresy to even think of slipping in a different colour amongst all those planting blocks of blues , whites , pinks etc. in case it clashes .
My attitude to colour in the garden has always been a bit like that of Joan Collins who at 80 last year married a guy thirty years her junior … but Joan what about the age difference asked the media….. her answer " if he dies he dies " is similar to mine about colour combinations … if it grows it grows !
Nature has not got a bad colour in it and in my garden at least if it grows it grows so colour is the last thing I concentrate on and with my far from Dublin 4 or East Sussex garden soil I can't be picky nor do I think that bees are picky and after all  pollination is what plants are put here for so my advice is not to get hung up on colour combinations far better to go for structure and leaf colour .
Last year while planting up a large green pot I placed a hosta sieboldiana variety Francis Williams as the centre piece with a lamium variety Chablis as the second lead and it proved to be a huge success with the lamium romping away almost swamping the pot and as an added bonus keeping its leaf throughout the winter when the hosta had become dormant . This year I added two similar green pots and repeated the planting scheme and while the colour schemes should not have worked , the growth is so exhuberant and fresh that it over rules any thought of a clash and it proves the point …. Rules Are Made To Be Broken !!
And this year on the basis that three is better than one !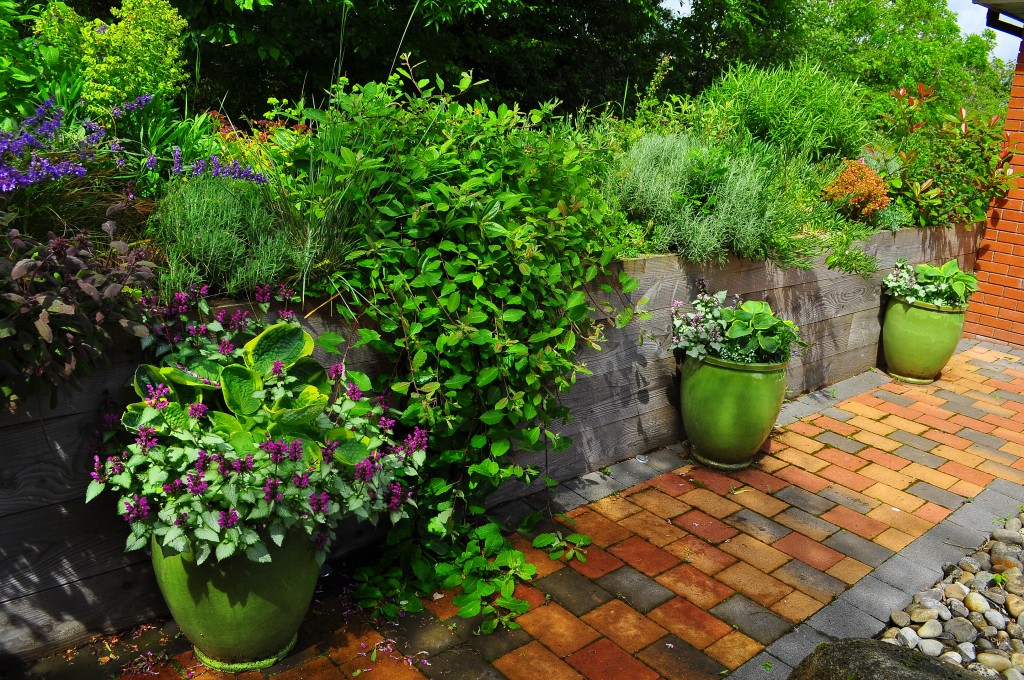 This week I have been planting up containers in which I grow mainly annuals for summer colour and I go for a tried and trusted list of plants which I know will do well , white allysum, blue trailing  lobelia usually paired with some trailing geraniums and I pack as many plants as possible into each container , give a good soaking with water and finish with a top dressing of gravel which finishes the container off nicely and helps retain moisture in hot periods .
Recently I was in Croatia doing some work on a garden located on the Adriatic Coast which I designed and built ten years ago and I can tell you that there are some major differences between gardening in Ireland and on the Adriatic and the two main ones would be the heat in summer and ….. SNAKES !!
In snake countries you learn very quickly to avoid wearing shorts in the garden , to wear socks and not to pick up large stones too quickly …… and to make plenty of noise !
An article in this week's Sunday Times of June 1st 2014 stated that there are an estimated 94,000 deaths world wide each year from snakebites , that over two million are bitten by venomous snakes each year and that three quarters of those who die are too far from a hospital to receive treatment .
Me I prefer to take precautions and rustle every bush and shrub I pass when in the garden  so that Mr. Snake will not take a bite and so far I have not had an encounter of the up close and personal kind ….. I have seen plenty of snakes at a distance and once in the late evening stepped over what I thought was a long stick to suddenly see the stick wriggle away ….. I could have been a contender for the Olympic high jump that night !!
The major difference , snakes aside , is the heat and unless you are prepared to water three times daily in the summer months you can forget a wide range of plants that are common here as left unwatered they would be dried up and dead within a week or so .
My brief for this garden , a small bare plot of 250 sq.metres , and as the garden would be left to its own devices for long periods was that the plants would have to be chosen for their ability to survive long periods of drought in extreme heat.
I started by laying down a top dressing of approx.. a foot of goat poo collected from the nearby Biokovo National Park  and worked that into the bone dry soil , leaving it for about six months before beginning planting  .
What plants to select ? I always advise to take a walk in the neighbourhood and note what is growing in the surrounding gardens and fields  as this tells you what will do well …. best to go with tried and trusted local varieties than to  waste time and money on what you would LIKE to grow as against what WILL grow  ….  right plant right place again !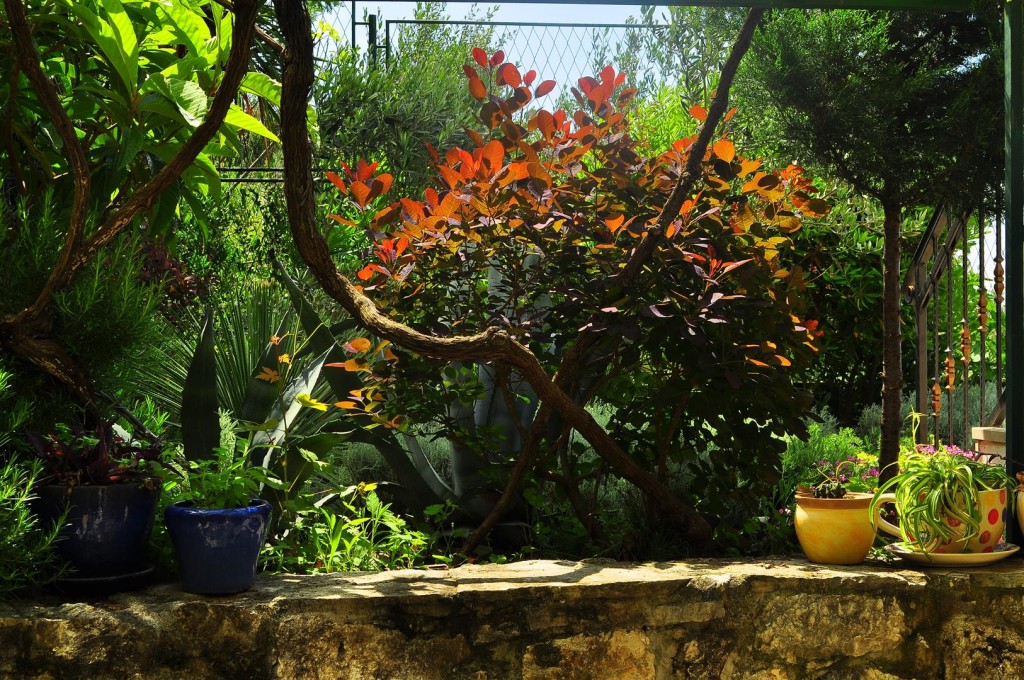 For structure I planted a mimosa tree which retains a nice leaf during the Adriatic winter months followed by a cordyline and then two olive trees . Two bourganvilles were grown against the retaining wall for their unsurpassed colour and exoticism as were some oleander shrubs and I planted up the remainder with a mass planting of lavender and santolina whose silver colour soaks up the sun and gives a nice contrast .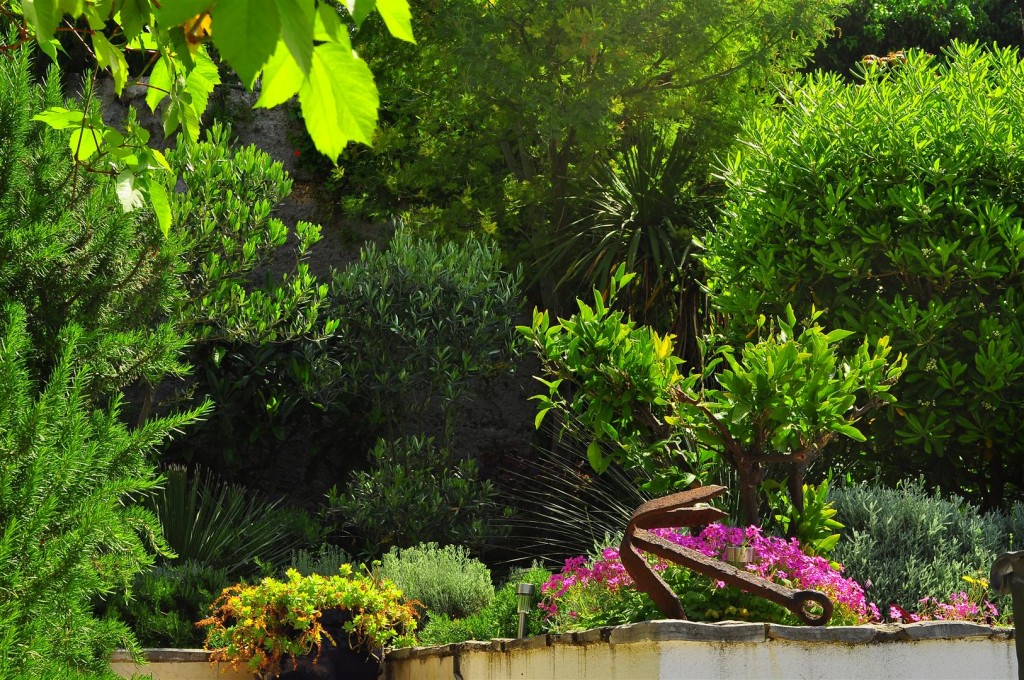 For dramatic effect I planted some aquaves and two loquat trees and then added some prostrate and some upright rosemary ….. all these plants keep their leaves all year round and thrived in the heat and my only real failure was a lemon tree as the soil was just too dry .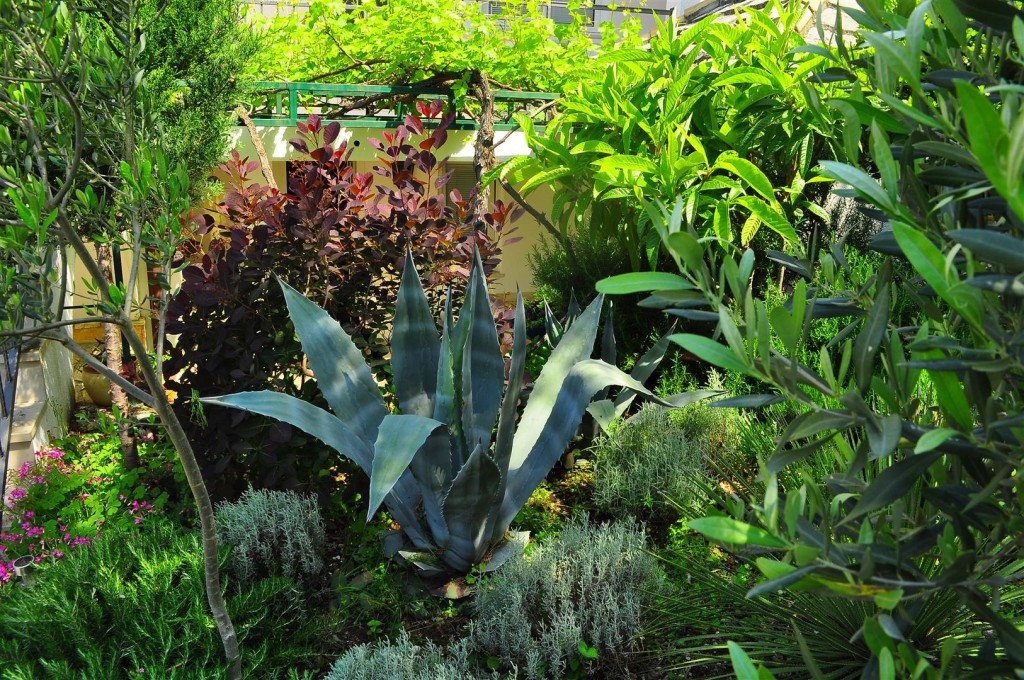 Pruning of the lavender and santolina can be and needs to be quite severe  in early spring as the plants recover quickly as otherwise they become lanky with the huge surge of growth in the hot weather but within three weeks have bulked up again … I also use a lot of pots and containers in various primary colours again with plants such as alpines and cacti that can take long periods of drought as basically in the Mediterranean plants are active in the winter with the rain etc. and tend to hunker down and go into hibernation during the summer heat .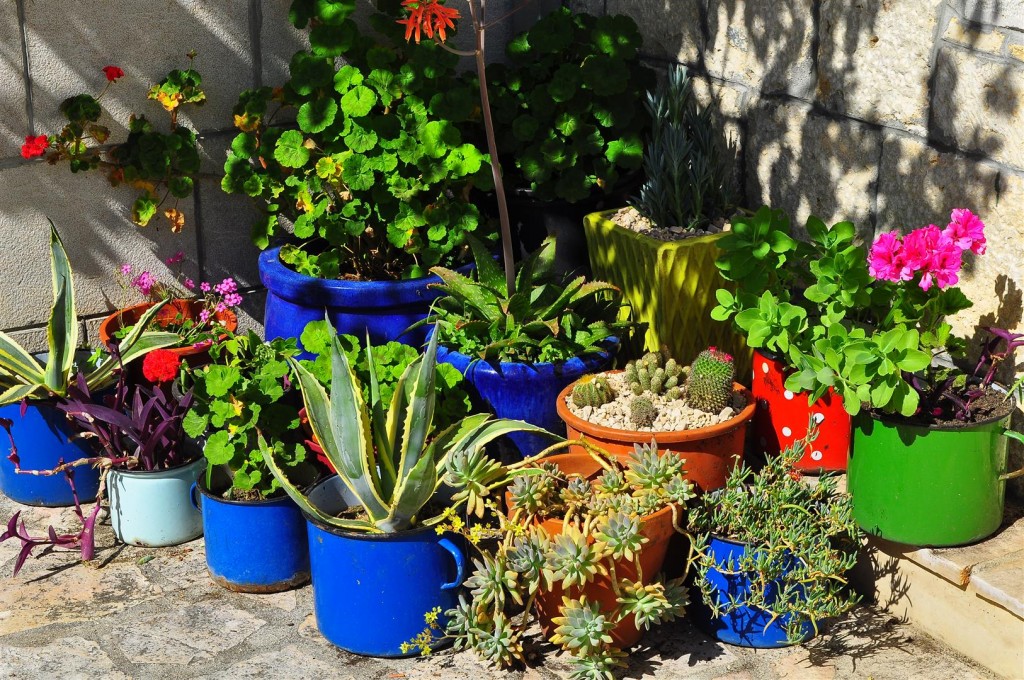 The garden is located about 300 metres above the coast and while on the coast the local gardens are full of cacti such as aloe vera  which survive outdoors all year … that extra 300 metres means that only in sheltered pockets of the garden will I get away with planting cacti  in pots which will come through the winter .
Aquaves also do well in pots but they have to be in large containers as they big roots , I also top up the pots annually with stones which helps to preserve moisture in the summer heat .
The aquaves are fabulously exotic and I grew them from off shoots I dug up , six inches high , from a road side planting scheme on the Dalmatian Coast , they are now a metre high , thriving in the dry hot conditions and this garden suits them and they romp away …. dangerous spines though and I have the scratches to prove it and if grown in a garden where children are about you need to remove the razor sharp tops of the leaves .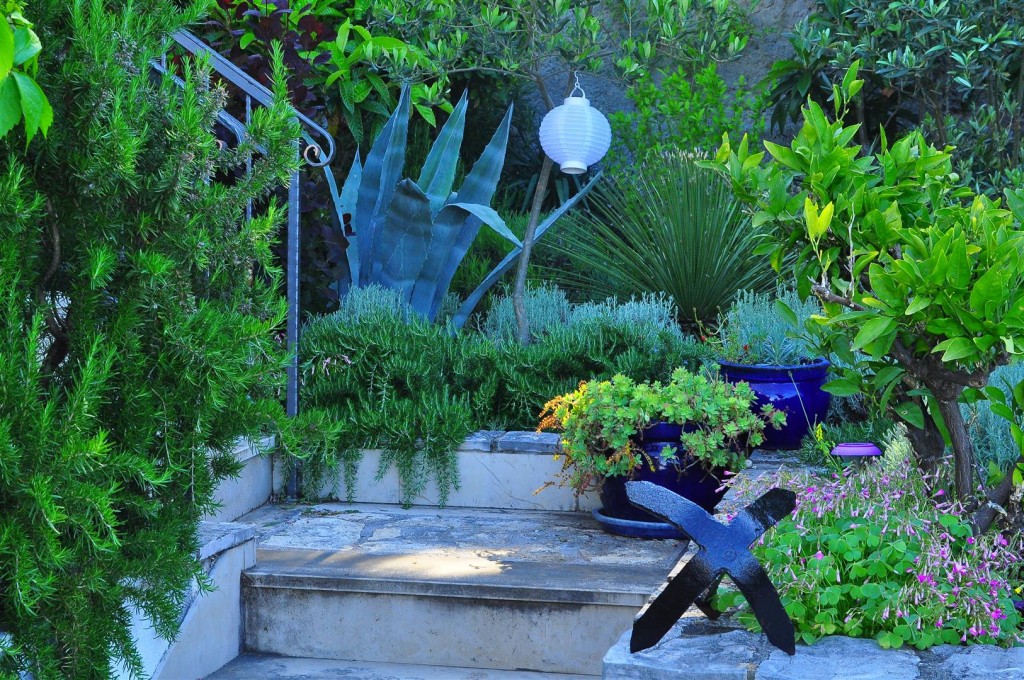 These aquaves for a gardener from our wet climate together with the olive trees represent all the best of exotic mediterranean gardening .
This trip I drove along the coastline of Albania , Montenegro and Croatia and there is a continuous  line of wild flowers along the road side that locals consider weeds but which are highly prized plants and shrubs here in the UK and Ireland . It seems every stretch of  road in May / June along the Adriatic from Albania to Croatia are covered in wild knautia , broom ( genitisia ), euphorbia and Jerusalem Sage ( Phlomis Fruiticosa ) although the phlomis seems to not extend into Croatia and ends half way along the coast of Montenegro with the dominant colour at the moment being the yellow of the broom ….. one person's weed is another person's exotic plant !!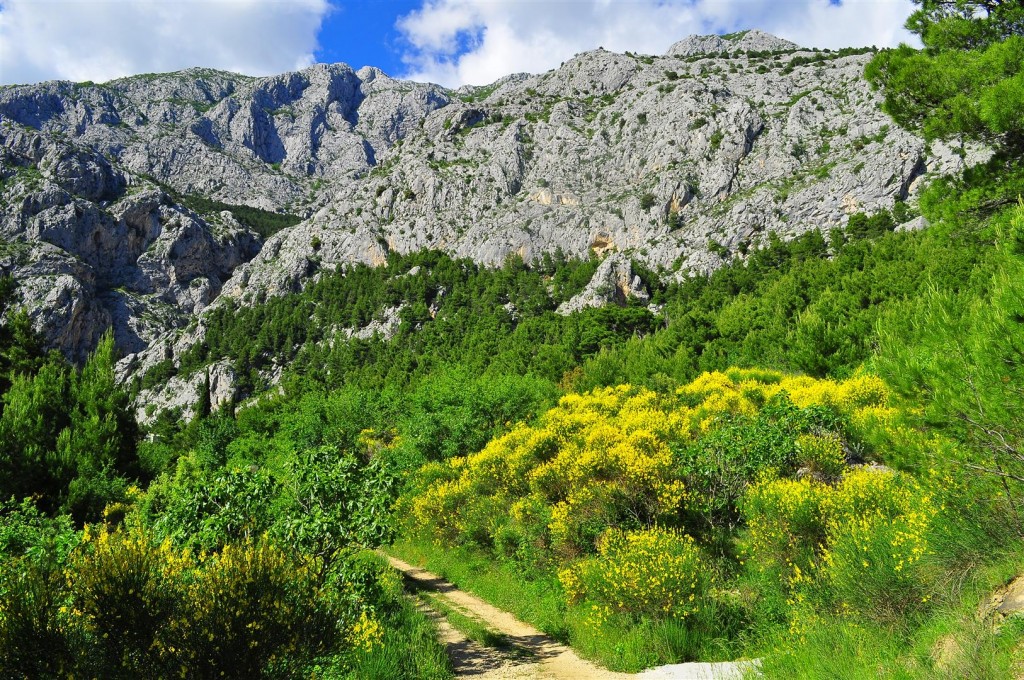 And some visitors to the garden this week who didn't eat any plants !