As this is the last day of 2013 I have already moved on and am looking forward to a New Year in the Garden !
I always regard January as a time to walk around the garden taking in ideas as to what needs to be done before the growth begins again in earnest in March . Everything is dormant with all planting reduced to a skeleton outline which I find very beautiful particularly in hard frosty weather .
Of course as gardeners we are always watching the weather , too frosty and we worry about another big freeze like the winters of 2009 and 2010 when plants were frozen solid in the ground for over six weeks and all over the country we lost most of our phormiums and cordylines ….. too warm and we worry that a big freeze is just around the corner !
For me January marks the start of the pruning season for  my yellow , scarlet and blue willows , salix  alba , britzensis and salix purpurea  which I begin about mid January and I remove about a third of all the thickest branches each year and from these prunings  I cut suitable slips about a foot long which go in to the ground wherever I feel there is a need for some willows ….. from groups of five slips roughly three will strike .
As these specialist willows have prominent winter bark colour which naturally should be enjoyed as long as possible so I only cut back the really thick branches  in January / February with a pruning saw  and leave all other pruning to the end of March just before the leaves unfurl . Removing thick braches does two things , it frees up the centre of the plant and promotes fresh young growth which has better colour bark next year .
We lost four mature trees this week during the immediate post Christmas Day storms .. all conifers …. which have shallow roots which give little anchorage and they just keeled over while one of our mature eucalyptus trees was split in two …. eucalyptus wood has a beautiful smell when cut and although we always cut all trees into logs which we stack for the wild life to colonise it is tempting to sneak one or two eucalyptus logs for the fire !
Gardening wisdom these days on big estates and arboretums is to leave trees lie where they fall so that the tree decomposes over 30 years back to nature and in the meantime provides a habitat for wild life and we do our bit by cutting fallen trees into logs of a stackable size and we never use trees from the garden for the fire  . We cut down a huge silver birch also this week which had self sown into a boggy area years ago and the roots had lifted so it was only a matter of time before it fell down but nature had already provided its replacement as three smaller silver birch had self seeded near the parent tree ….. and it goes on like this in nature , a tree falls and a replacement is waiting in the wings .
In Croatia where  , like in all the Balkan Countries , there are huge natural forests which in the hot Mediterranean climate are prone to regular forest fires which devastate large areas of trees and you think all this blackened area of tree stumps is spoiled forever and then two / three years later you see the new growth of self seeded trees . Our village of Gornja Podgora suffered such a  forest fire three years ago and a local forestry official explained to me  that the seeds from these natural trees lie dormant on the ground for years as they  need intense heat to germinate so in a forest fire they crack open and are flung widely about the area where without any human assistance they regenerate the forest again …. In fact it could be said that natural forest fires , perhaps caused by lightning strikes are natures way of clearing out and starting over again with a new generation of trees .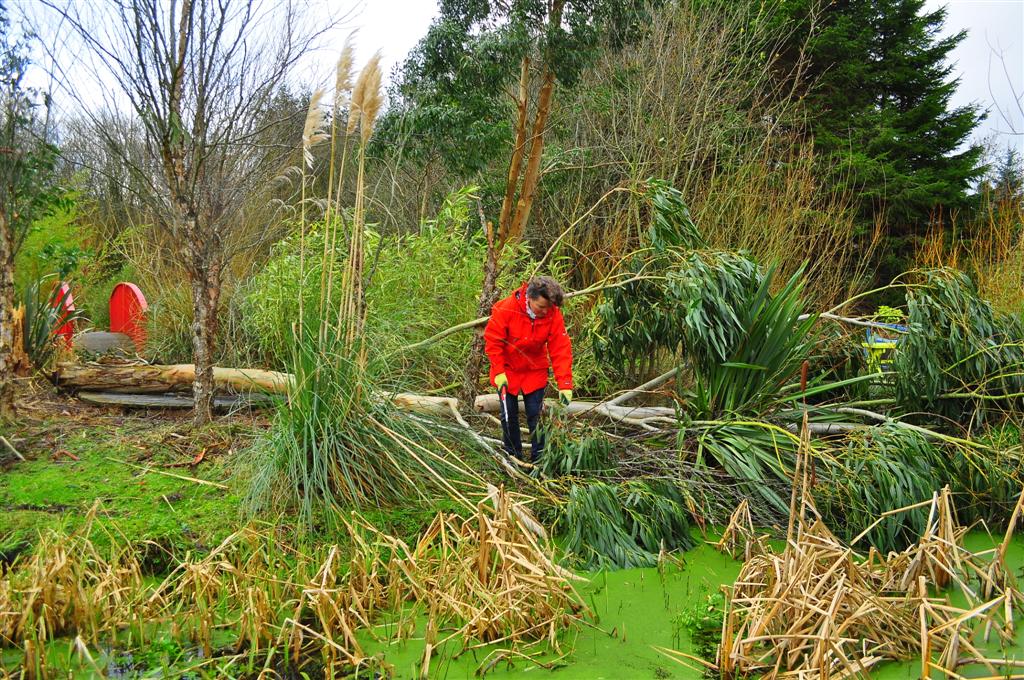 This first week of January 2014 I will be moving plants which for some reason have not done well in their locations and this can be for any amount of reasons such as poor quality soil, wet logged or in a bad wind pocket and my normal rule of thumb is move them after one season of poor growth . I have persevered now for three years with a group of twenty yellow stemmed cornus  in the lower garden mainly because I really wanted their colour impact  both in summer and winter in that particular area and was prepared to neglect my normal rule of moving underperforming plants  but they stayed alive and put on no growth despite my best efforts …. so out they  have to come and I will spread them about throughout other borders . In their place I am planting slips of the brilliant bright yellow willow , salix alba  , which will give me the yellow effect I am looking for … hopefully !
It can be difficult for the part time gardener to raise the motivation to get out into the garden in these dark winter months particularly January when the temptation is to stay in from the wind and rain or hurry indoors from the car after work and nestle down in front of the TV with a nice fire going and before you know it is early march and not a child washed or a thing done in the garden !
My way of dealing with January is to stay away from heavy gardening when it is really dreary weather but get out there when the sun is shining and start with the nice interesting  tasks and in such a mood today , December 30th , I did two hours of tidying up jobs that had been put on the long finger for the past few weeks starting with raking out bucket fulls of invasive parrot feather from the lower pool …..  I filled several  barrow fulls as in this pond I am able to keep it under control every three months so it doesen't manage to put down roots into the bottom soil ….. parrot feather will spread along the surface of the water at first  where it can be controlled  but if it manages to root into the bottom of the pond then to put it mildly you are screwed !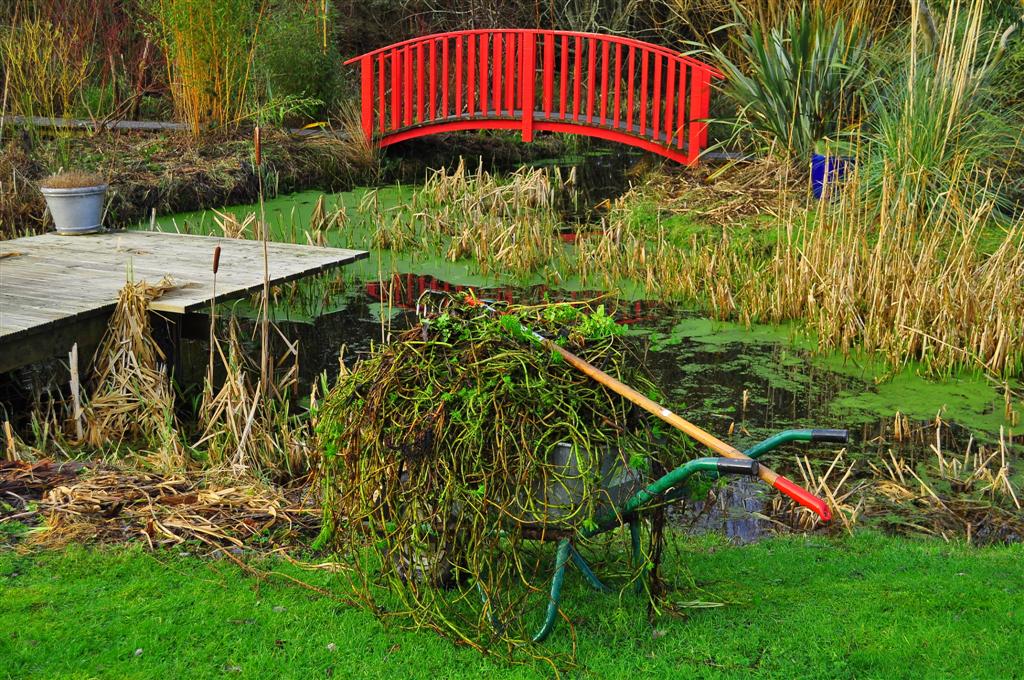 My able garden lieutenant departed these shores for Kosovo duty this week …. I say lieutenant but she says " Commander " is a better description of her role …. whatever … but the garden is certainly not the same place without her .   
A Happy New Year 2014 to you all !