The first week in September , back to school time when you had to give up the good life and go back early to prison and through the class room windows the sun always seemed to shine brighter at this time of the year to us 14 year olds sitting in 2nd year at the High School , Clonmel  !
This year it actually is shining brighter and gardens all around Clonmel are looking fairly dead from the days without rain and the only thing in bloom are roses and dahlias … that is if the black spot and slugs haven't got at them first … gardeners like farmers always complain about the weather … too much sun … too much rain another year and we can never make up our minds which we prefer !
Just now after ten years our Mulberry Tree  ( where the hand bags come from ? ) which has been growing strongly and putting on great swathes of foliage  has finally produced fruit !
Useless looking tree though and there are much better garden specimens but for some reason UK gardeners love the mulberry tree and it must be some throw back to the Lords and Masters time in English villages when anything that produced free fruit was welcome …in my view plant a nice acer or liquidamber tree anytime …. but of course Snezana  in some weird DNA thing connected to Macedonia also loves the mulberry tree which is why we have it !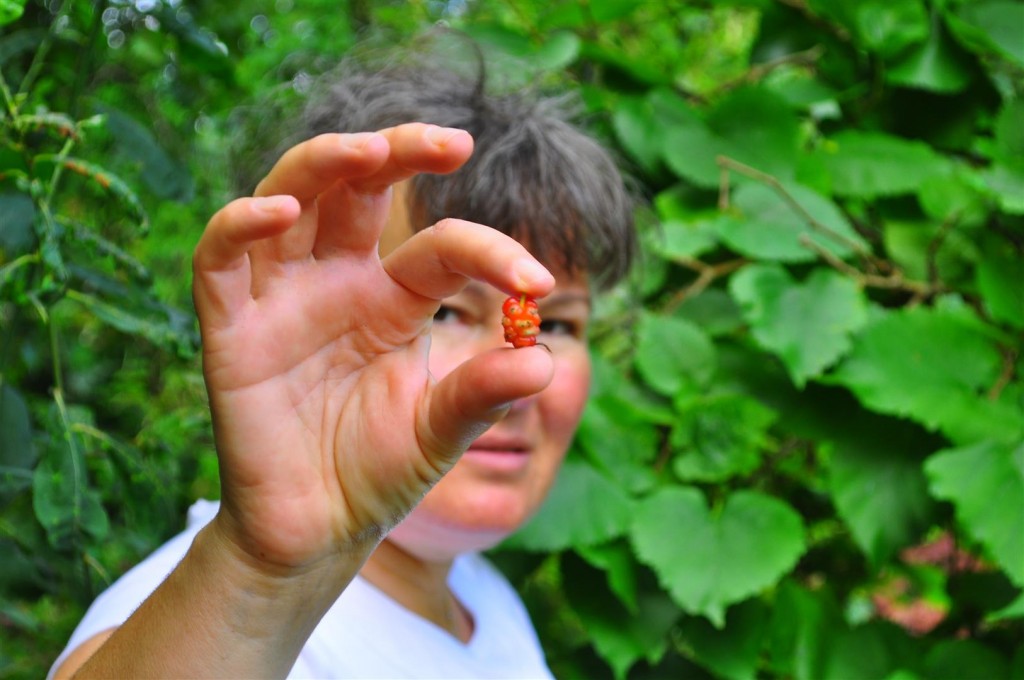 The new borders in the lower field which I planted with grasses one year ago have really done well particularly the various pampas which have trebled in size and are shaping up to be real monsters ! I was lucky enough at the time to get a supply of pampas of the variety ricaardii which flowers in July / August but which more importantly is a terrific foliage plant with great architectural structure …. I say lucky enough because it can be difficult to source and  although always admired here , for some reason it doesen't sell well in the garden centres .
It hasen't been plain sailing though and I have had a few failures among the grasses mainly with miscanthus which I bought cheap as very small plants last year and they have barely stayed alive and not put on any growth , still alive mind you so maybe there is hope .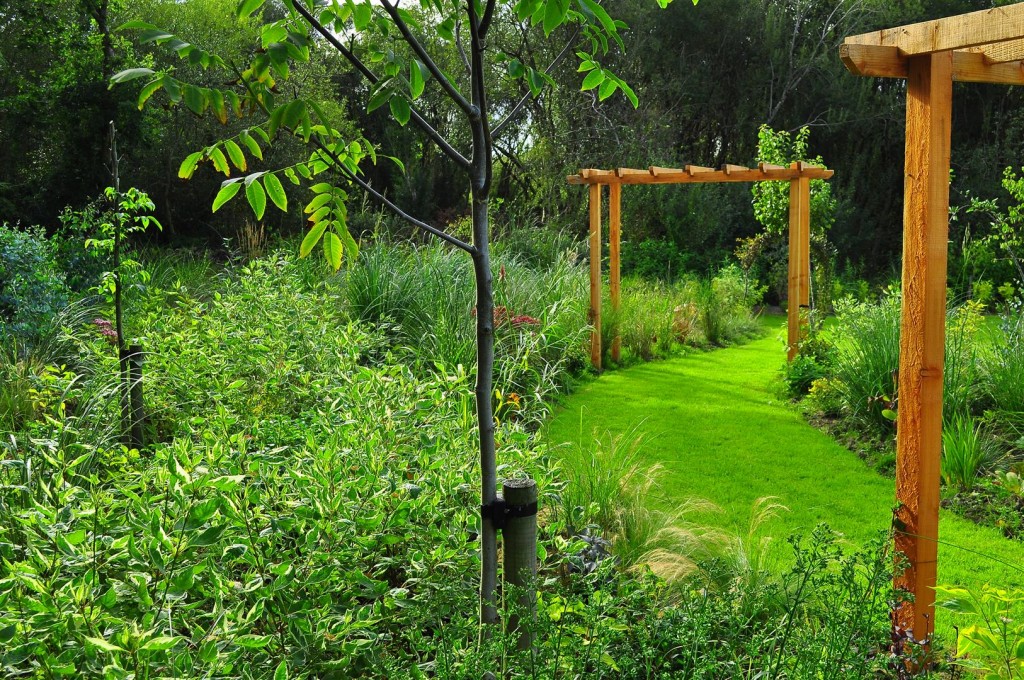 One year ago in September 2013 I opened up the new borders in the lower field and although I took some losses during the winter where I underestimated the amount of water that can lie here and choose the wrong type of planting but most of the planting came through and I replanted those that did well ( cornus, hypericum, pampas grass etc. ) in place of the woodier plants like eleagnus and hydrangeas that didn't survive the water logging .
This week I saw some hypericum hidcote ( St. John's wort , a small shrub bred at Hidcote Gardens ) in Glenconnor Garden Centre and snapped them up as again this is an under rated plant which remains on the shelves .. a favourite of mine as it is an undemanding shrub which always delivers no matter where you plant it , wet or dry , shade or sun with almost evergreen glaucus leaves and covered in yellow flowers all summer .
On the same visit I also picked up a few acuba japonica , the spotted laurel , and like the hypericum they were good sized  shrubs and very cheap …..and obviously unloved and unattractive on the shelves !
It made me wonder as both these shrubs are terrific plants for awkward places and although not front rank sexy shrubs are a back bone of the garden type shrub and I have planted lots of them over the years as I really value them as totally undemanding plants but what makes me wonder is would gardeners value them more if they were temperamental prima donnas which swoon at the first hard wind or frost or if they could only be sourced on the Afghan side of the Hindu Kush ….. not the Pakistan side of the Hundu Kush Dear …. too common don't you know !!
It pays to visit the your garden centre of choice every other week as different plants arrive throughout the season as they are forced to their peak by the growers  trying to attract the customers eye and a few weeks ago I was lucky enough to see three rhus cotinus of that big purple leaved variety Grace … again difficult to source at a reasonable price and a few weeks ago they were for sale at 25 euros each in Johnstown Garden Centre , the yummy mummies of South Dublin's favourite garden centre … yet two days later I picked the same size plant up in Glenconnor at half that price .
I am threading some purple leaved shrubs at intervals through the new borders where the colours are predominantly green ( the planting is led by a mixture of grasses and glaucus green rosa rugosa ) so the rhus cotinus , also known as the burning bush , will add some needed contrast together with a few sambucus nigra , the black elder  .
The general tendency of rhus cotinus is to flop around and sneak its branches through neighbouring plants and while this undisciplined untidiness suits me I have found that you can train it to grow more upright by rigorous pruning out of any floppy branches and this forces a more goblet shaped plant which is also very nice .
The unusually good summer has been tough on containers and pots and a lot of watering was necessary to stop plants looking like dried out wrecks and we generally forget just how hot the normal sized ceramic pot can get in hot weather and how quickly plants can dry out . I add a litre of water each day to the pots around the house and I also add a foliar feed with the daily watering …. the feed is diluted , a capful to five litres . I used to use a tomato fertiliser on the basis that if it was good enough for tomato growing then it was good enough for pots and also on the basis that tomato fertiliser is usually for sale in the garden centres on the basis of buy one get one free  however after speaking to Helen Dillon at her garden in July and seeing at first hand the results she gets from Miracle Gro fertiliser I am now a big fan of this particular foliar fertiliser .
Recently I have been making my own foliar feed by cutting up nettles and leaving them in a bucket of water for six weeks …… the smell is unbelieveable but the diluted liquid is like manna from heaven to plants ! If you grow comfrey then add this to the nettles but nettles on their own are terrific …… our neighbour's dog , Toby , drank some recently and was last seen heading into Clonmel doing somersaults down the lane !
A few years ago I wondered why my container plants looked a bit wasted by the middle of August and the answer is regular feeding which prolongs the active growth right through to October and although some people don't like this look as they want to see the pot they have probably spent a bit of money on however I like my container plants to romp all over the place and in some cases you can't see the pot anymore but I love this luxuriant growth and if you look at these photos of four similar pots side by side you will notice that two pots are covered and the other two not so much although all four receive the same feeding ….. the reason is that the first completely covered pots are in more shade throughout the day while the other two are in full sun …… pots from my experience like a shaded site as the sun can cook them otherwise .
This week I have caught up on the lavender pruning and although some of the newer ones look great , all fluffy and full , lavender benefits from a good hair cut in September and even though they tend to be a short lived shrub of four / five years you can maintain them long term by regular pruning after flowering . The one thing lavender can't stand is water logged or wet conditions and the second thing you never do with lavender is to cut it down to old wood as it doesen't grow except from fresh wood and this always confuses people as most plants can be levelled to the ground such as santolina and nepeta and will grow back even stronger however try this with lavender and it is hasta la vista Baby !
The photo of rudbeckia variety goldstrum shows a beautiful North American wild flower which is a marvellous perennial that is reliable and  just gets better every year in the garden … fairly nondescript plant when not in flower , one you walk past without really seeing  but when it  seemingly overnight bursts into flower in late August it takes your breath away  .
Unfortunately I only have the one plant growing which I bought almost as an afterthought one day in Kilcoran Garden Centre where they were being sold individually in tiny pots for two euros and which Rebecca almost forced on me so  I just threw it into a border and forgot about it for two years but this year …. BOOM … and more rudbeckia are on the list for next year !
I realise that having ONE rudbeckia is heresy to those of you who love perennial plants (in their various forms and colours  they form a major part of any perennial planting scheme ) but even though I also love perennials the fact is I don't have the soil conditions to grow them and when I do manage to grow the odd one….  the deer eat them unless like this one I plant it in the front garden where bambi doesen't normally come !
An early morning walk in the garden September 8th 2014 …… better than going back to school again !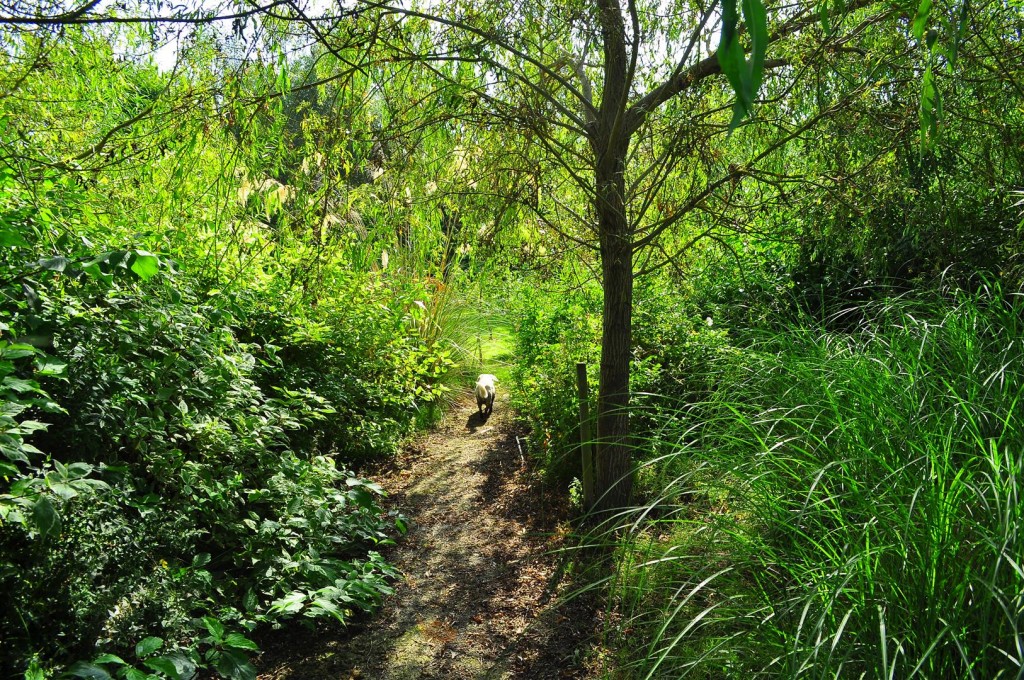 An old shovel picked up at a car boot sale in Fethard and painted blue adds colour to a dark area .