Frost has arrived but these alpine plants in a container in the front garden  don't mind !
 I am currently planting a new mixed border bed which I opened up in September opposite the other new bed , the pampas/ miscanthus area and running almost the same length about four metres away and the reason being that it creates a grassy avenue of a walk between the two new beds and immediately adds interest to what previously was the top end of the field so now when you come around the corner you see the gravel path to your left , beside it the new miscanthus bed , then a grass avenue and then another bed .
I have always disliked the rigid formality of the traditional rows of plants all planted according to height and colour schemes and I much prefer to use perennials in an informal natural way allowing plants to self seed as happens in nature . The various tall miscanthus grasses have always been favourites of mine but up till now I have used them as specimen plants never in groups so this new large planting bed was an opportunity to use only grasses .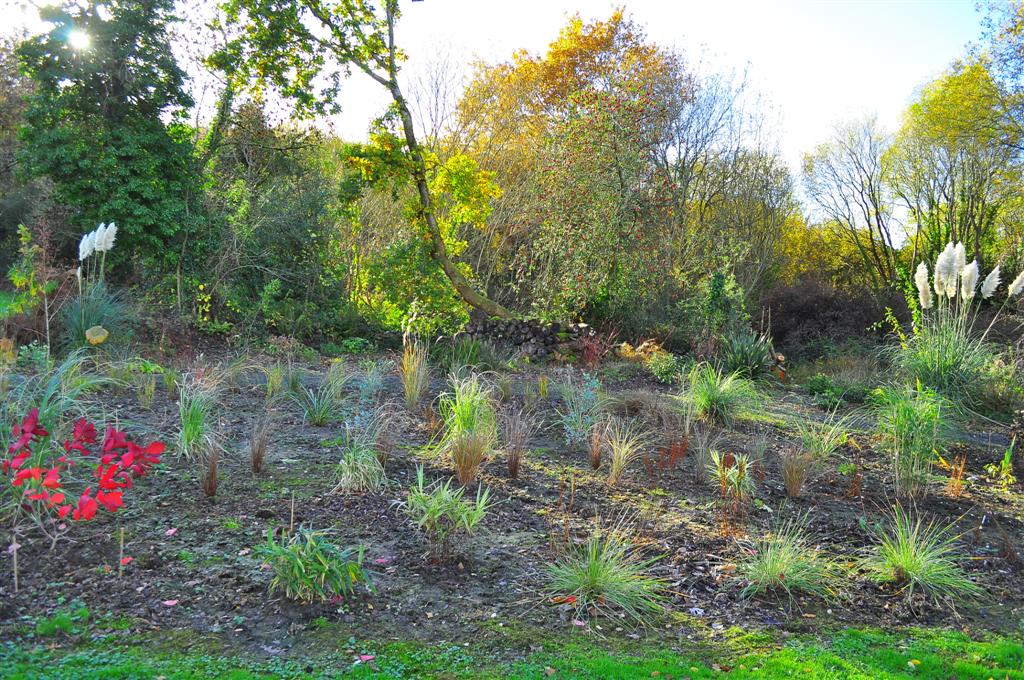 The  use of mass planting  of grasses in landscaping has grown over the past fifteen years as a move away from structured perennial planting schemes  and was first made popular by the Dutch landscape gardener , Piet Oudolf .
Recently we visited a once in a lifetime unique garden  landscaped by Piet Oudolf  ….. the High Line in New York which is a garden in the sky above the streets of Manhattan's West Side stretching over a mile in length and ten metres high along the former freight train line leading from the port on the Hudson River through the old Meat Packing District .The garden is essentially a former railway line ten metres wide running between buildings and apartment blocks two storeys above the streets . Because of the limitations of the site , the extremes of weather , the depth of soil available, planting is mainly confined to a small number of trees ( mostly multi stemmed silver birch ) but  80 %  of the planting is grasses of various heights .
Now from Manhattan back to the job in hand !!
I will have the main planting completed next week which will be the back bone of the structure and over the coming months will fill in between the structural plants with a mix of perennial foliage plants . It looks nothing now as can be seen from the photos but in a few years it should have thickened up nicely and already I am pleased with the colour scheme .
 I have to be careful in the planting in that the deer are quite active in this field visiting on a nightly basis  and anything planted here has to be something they won't eat and already they have stripped the bark from two salix purpurea ( weeping purple willow )  lovely grafted small trees which I got in Dundrum and they are dead already . Peter Cullen's laconic  reply when I asked him once what was the best way to deal with deer – a shotgun  , is getting more attractive every day ! 
 The proper handbook way to begin  a new planting bed is to clean it of all perennial weeds , double dig it , rake it over to a fine tilth of soil just as they do on Gardener's World where off camera they probably have ten garden interns to do the dirty work … not here … where moi is the dirty work  intern .. unpaid I might add !
The most important factor in choosing the site for this new planting area was that the soil was really good , not too wet  and secondly running as it did the length of the gravel path along the top field it would add definition to the path which up until now just looked into a long expanse of grass and finally facing south west it gets filtered eastern light early morning and  all the light after mid day  .
Having decided on the site the next thing was to decide on the outline and shape as you don't want uniformity in an informal woodland garden so out with the hosepipe to mark it on the ground then spray off the grass and repeat the dose about three weeks later to ensure a clean bed to start planting …. not just yet though .. for another three / four weeks I collected and spread all the grass clippings over the new area which had the dual effect of supressing any regrowth of grass and providing a nice mulch  and comfy bed for the new arrivals .
Now I was ready to begin the selection of plants, a mixture of leaf and bark and a few evergreens for all year round interest .. supplied in this bed with viburnum tinus var. evelyn price and five eucalyptus trees about a metre high – the entire corner of the bed about 20 meters deep and 30 meters long was planted with the various grasses, pampas and miscanthus and I will finish this off in spring after the worst of the winter is gone with clumps of knee high blue grass .  I also used the opportunity and space to transfer any shrub that hasen't been doing so well in other parts of the garden and in the last year there has been a few that did not thrive due to dry soil so they will get another chance in hopefully better conditions in this new bed .
November 26th I planted up some recent plant purchases in the new bed
– two eleagnus ebbingii variety limelight , this is a hardy space filler for the back of the border which is a strong grower to about two meters , has a nice in formal overflowing shape  and  is evergreen with a nice green/ gold ( not a brassy gold but a very light variegation ) leaf which is silver underneath  and which shows up well when windy – one problem with this fast growing eleagnus is that you have to watch the new growth as the plant though not a grafted plant tries to revert to normal green and you have to be vigilant and ruthlessly cut out any green branches or otherwise in a year or two it will be totally green … still not a bad shrub at all green but much nicer as a a variegated specimen .
I had picked up three heathers in Woodies last week and set them out in the front of the bed about a meter apart … normally I don't plant heathers in woodland planting schemes  but these were the WT Ratcliffe variety which has white flowers in spring but which more importantly grows into small spheres about a half metre wide almost like boxus balls (and unlike your normal heathers which when not in flower are generally  straggly and floppy ) and have a lovely impact even when not in flower so my perfect type of plant with all year round nterest !
WT Ratcliffe is a favourite heather of mine since I first planed it in the mid 70's in Rosslare but are difficult to source these past few years for some reason so when I saw these in Woodies yesterday  I snapped them up .
I also added some hypericum variety hidcote to the mix as these St. Johns Worth flower all summer long with lovely yellow petals but more importantly earn their keep when not in bloom by keeping a compact tight shape and are evergreen in all but the hardest winters ….. and you can be as rough as you like with them if they need pruning and take a chain saw to them if you like and they come back stronger than  ever .
I added two viburnum tinus variety evelyn price at different ends of the bed … again an evergreen plant which is nice and compact so I have them at the front . Evelyn Price is the only viburnum tinus I use as the common ones grow too big and I perhaps wrongly associate them as graveyard shrubs as you see them  usually planted in most old fashioned graveyards along with dark brooding yew trees … a combination which probably suggested doom and gloom to municipal gardeners of Victorian times .
The last plant in today was helictotrichon sempervirens , blue oat grass , a front of border grass which Ursula Buchan , Telegraph gardening writer says " every day it catches my heart with its curvilinear grace , its airy charm " and a plant which she regards as " indispensable " – and while I wouldn't go that far in my praise as she does in her book Back to the Garden , I use the blue grass a lot as a front of bed  blue / green foil to darker leaved shrubs and being small ( about a half metre mound ) you can tuck it in quite often as a foil and filler in to larger shrubs which reminds me I must revisit the garden centre and get some more ! 
Also planted today was some dwarf pampas grass , not so much for their plumes but their shape as they are small enough to go mid deep in the new bed and add structure . 
 As always whether shrubs, perennials, trees , I planted in groups of ones, threes etc. never in even numbers as nature does not do even numbers so when I say I bought two of a plant as with todays planting of hypericum, vibrunum tinus and dwarf pampas , you can take it the plants went in as single specimens in different sections of the planting scheme .
It was all so different with my first ever planting scheme in Rosslare in 1976 when I used to visit the Bridgetown Garden Centre and try to pick up tips from a very gentlemanly courteous  gardener , Ralph Wickham , who had studied everything there was to know about plants and never lost patience with my million questions . I bought my first plants from Ralph and set them out in that original bed , a metre wide and twenty metres long and Ralph came over to view my efforts and despite his best efforts to be gentle in his opinion was hysterical at my first gardening baby steps as I had planted everything too close to each other with no regard as to eventual height and spread so tall plants were at the front , small plants at the back in one big jumble … patiently Ralph explained and sorted out the plants and I quickly realized there was more to this gardening game than I had thought !