Antiquities in the garden is the title this week  …… no NOT me but a beautiful quern stone …. a few months ago I was in Pauline Hegarty's garden at Kilmacomma just outside Clonmel , a lovely garden which featured in Irish Gardener last year and well worth a detour if in the area as they say in the Michelin Guide . Pauline had just come back from a visit to her childhood home in Clare with a pair of ancient stone grinders and as I admired them so extravagantly she promised to put the word out to see if another such piece came on the market , one such piece did last week and now has pride of place in our front garden !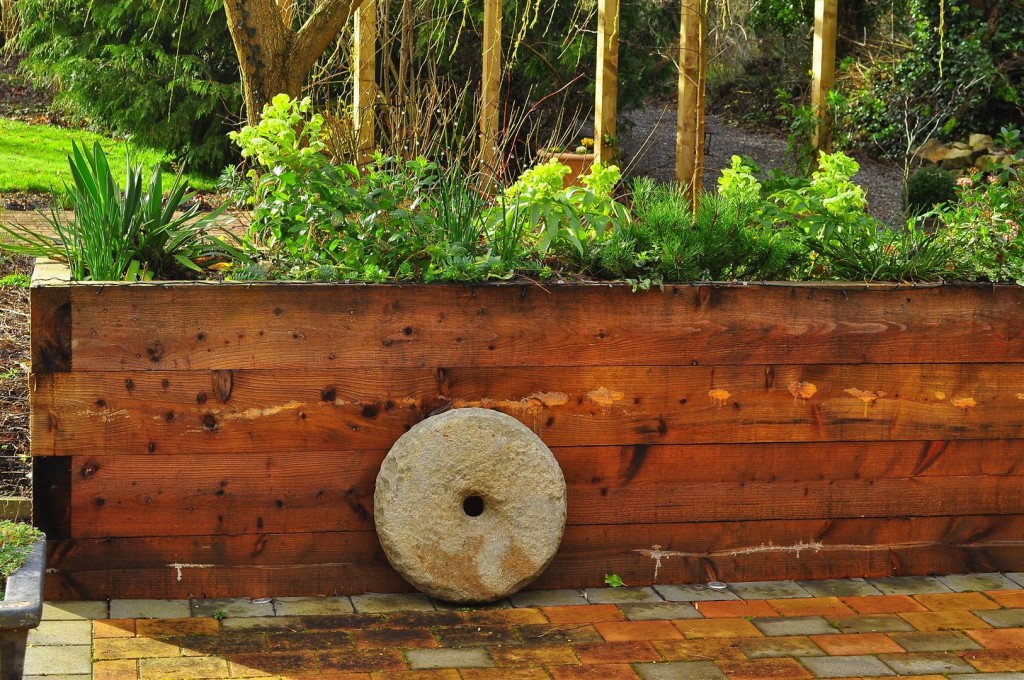 I love the history and antiquity of these hand carved stone  rotary milling wheels and this one would have  been used for hand milling grain for flour for several families in a typical farming community or village and its type were in general use until the introduction of water mills and wind mills replaced them on a commercial level . The oldest quern stone was found in Syria and dates from 9000 BC  and this particular one which has already grabbed our hearts could be anything up to 1000 years  passed down from generation to generation .
You may wonder why I am including a photo of a plant in flower as I generally preach and have a policy NOT to buy plants while in flower on the basis that they have been grown under glass and will generally suffer when planted out however I made an exception for this primula from Glenconnor Garden Centre this week as I can divide it immediately into three plants which is great value …. there are lots of them available in Glenconnor , divide and plant out now and next year you will have three strong primulas for the price of one  . Similarly I bought a specialist salix rainbow in Johnstown Garden Centre  which I can immediately divide into five plants and grow on and I try to do this with all bought perrenials i.e. buy a host plant big enough to divide immediately or better still that has already formed plantlets which makes it easier to divide  .
Early March is also the perfect time to pot up any self seeders you may have and in our garden we get lots of euphorbia , stachys lanata ( Lamb's ears ) and variegated vinca popping up and just to illustrate what you can do I attach a photo of eleven pots each with three small plants which took just an hour today to dig up and plant and these will be ready to go into their final positions throughout the garden in September . While I was in the propagating mood I also split several clumps of perennial  French daisies and some bamboo which just went straight in to their permanent positions where in a year they will have doubled in size .
I love these self seeders such as alchemis mollis ( Ladies Mantle ) , Christopher Llyod used to call them gardening thugs as they are as tough as old boots and self seed all over the place which I take as a compliment that you have provided the proper environment and the plant likes you !
I include some photos taken this week in the garden of those old favourite cottage garden plants , wall flowers, which are now in full bloom . In my view you cannot beat the common wall flowers , daffodil and primroses so loved by our grandmothers which they grew among the cabbages , lettuce and onions in the haggard or the half acre as my own Grandmother , Nonie , would call it in Ballintaw  when I was imprisoned there for the summer holidays in primary school days …. Stalag Ballintaw as my cousins from Limerick and  I used to call it … joking of course !
You will notice I don't include tulips in the list of cottage favourites and its not that I don't like tulips , I do but find them so short lived and liable to blow over in a strong breeze that I don't value them anymore …plus the fact that the specialist growers in their efforts to satisfy the market's demand for ever more lurid and over the top combination of colours have made tulips too poncy for my taste .
I still grow tulips but now plant only the dwarf varieties .
Tulips although classed as perrenials rarely last more than four years in the ground and are very fussy with soil conditions , don't like heavy wet clay etc. so are better treated as annuals sown in sheltered areas or in pots and thrown away after flowering .
Since we began clearing , shaping and planting the lower garden in 2006 I have deliberately left areas of wild brambles both as design blocks  but also to provide shelter and escape routes for wild life such as rabbits , pheasants , hedgehogs etc. but now eight years on the wild garden has expanded and some of these areas are no longer needed so at Snezana's urging I have made a start at clearing one such area with a slash  hook and a petrol driven strimmer…… armed up like a Securicor guard as these bad boys of brambles can hurt !
I must admit the newly cleared area is looking good and does give possibilities of some new plants however the problem remains that this area in the lower garden is visited regularly by deer who regard it as their patch and anything I plant there is likely to be regarded as tasty take away by them ! It is a woodland dry area with lots of shelter facing west so perfect for a range of plants but …. and it is a big but … they have to be plants and trees that the deer don't eat so lovely Japanese acers are out but perhaps some oak , bamboo and camellias might fit the bill .
I mentioned some new coloured willows , salix rainbow , which I planted this week and this has a sharp red colour stem which grows to a maximum of two metres and which you pollard or coppice  back to the base each year in Spring to keep the deep colour ….. you can't beat the red and yellow bark  of willows for colour in winter .
Camellias don't do it for me however which will seem like heresy to most of my gardening friends who dote on them and yesterday I was visiting a woodland garden which was full of them , all in bloom but no it didn't change my mind and even though their evergreen glossy leaves look good I find them fussy to grow and the flowers quite blowsy apart from the white varieties and the plants themselves have no structure so give me an impact shrub like rhododendron any day .
Mount Congreve from Kilmeaden in Waterford market the best varieties and camellias thrive in peaty shady woodland conditions and are best planted facing away from the east as the blooms if iced up with frost are damaged if thawed out too quickly by the morning sun in February ….. morning sun in February … IN IRELAND …..  who am I kidding ?!!!