Still some colour in the garden mid December 
Inspiration in the garden can come from many sources but I find most of mine in gardening books and articles while the occaisional feature on Monty Don's Gardener's World BBC programme also contributes …. and of course you learn from other gardens and gardeners .
These days gardening books are  being published less and less as the knowledge available on the internet is now the main place to go for information on plants however this week I saw a collection of twenty year old garden books for sale in a local charity shop window … sad really as it was obviously a house clearance of a gardener's collection by his family and whoever the late gardener was , he or she had good taste in gardening writers and had assembled over many years a fine collection of gardening writers such as Penelope Hobhouse , John Brookes and Christopher Llyod plus a fine group of Reader's Digest gardening classsics such as the RD Guide to Creative Gardens … I bought the lot even though I had some of them already as in my view you can't have enough gardening books and I will pass on some of the duplicates to friends .
Leafing through the Reader's Digest Guide to Late Spring I came across some terrific photos of containers of tulips and hyacinths which immediately in a gardening eureka moment solved a problem I have been having for years in planting up a stone trough I bought some years ago in the Kilkenny Architectural Salvage Yard  .
Originally I had bought the trough with the idea of putting it at the front of the house but when it arrived and we manuevered it into place ( it weighs almost half a ton ) it didn't look right against a background of a modern red brick house and eventually I found a place for it in the lower field …. troughs in my view look best planted with alpines and layered in gravel but for this type of planting to work it needs full sun and my ideal site for the trough was in dappled shade but going against the principle of right plant right place I went ahead anyway and planted with sempervivums and other alpines which of course grew floppily and lank and never looked well …. well with one photo from the Reaader's Digest Guide to Late Spring I have found the solution to my trough problem …. I will use it as a spring / summer bedding container starting with crocus's , small iris's , miniature daffs / tulips , then summer bedding and later winter plantings of primrose and violas …. why didn't I think of this obvious solution over the past five years … well you may ask but it comes back to my original point … inspiration , inspiration, inspiration … and of course never be too proud to accept you were wrong and THAT you don't know it all !!!
And on the subject of being unhappy ( in gardening terms !)  I have never been entirely happy with the design in the lower field as my original intention to plant it as an apple orchard ten years ago failed due to the constantly wet soil conditions …most of the trees just stayed barely alive and I eventually gave up and moved them to drier locations in the garden with those I relocated to the top garden thrived but the rest in the conifer and secret garden were eaten by the deer as it is away from the house and the deer are left to roam more or less untouched …. completely untouched I should say as they have got used to me and ignore my shouts of " get the f..k away ye hungry f..kers " .
Anyway yes … not happy with the lower field design …. so I am gradually encroaching into the space by extra deep plantings along the edges , then the wild garden part takes up a bit and I also added various clumps of pampas grass and seven river birch but my latest effort came to me one evening lately and today I started the planting …. a crescent shaped bed about twelve metres long by two metres wide which today I planted up with  cornus ( variety elegantissimus . red stems and silver variegated  coloured foliage in the summer ) a metre apart and then for contrast and winter foliage I planted three eucalyptus variety gunni . A total of twenty cornus shrubs and three small eucalyptus trees .
It doesen't look great now,give it a year and this should be maturing into a nice planting scheme with good all year round interest  and in two years it will be better and be doing the job I have in mind i.e. a solid impact shrub bed in a big area of grass .
I intend to pollard the eucalyptus annually to keep it at two metres height which will encourage  young fresh glaucus green foliage constantly and  which will be a good contrasty foil to the cornus both in winter and summer . I had sprayed off the grass with round up beforehand which will give the plants a good weed / grass free start in the Spring and I underplanted each cornus with daffodils , variety golden ducat , which flowers in March /April , a total of 200 bulbs   which will kick off the bed in early Spring and help it stand out …… this planting scheme is a simple one involving just three varieties of plants , variegated dogwoods , eucalyptus , yellow daffodils , yet it will give an all year round return with the bright red bark of the dogwood a focal point in the winter from November to March , then the daffodils kick in for six weeks of flowering from early March to end of April when the new variegated leaf of the dogwoods will take over again until November and all the while the glaucus evergreen leaf colour of the eucalyptus provides a great centre piece ….. and all plants are trouble free with just the odd pruning now and again …… sorted !!
A word of warning about buying daffodil bulbs in bulk at this time of year when the garden centres reduce the price …. I bought these in 3 kg. bags which contain approx.. 50 large bulbs and about 10 % had gone off and had to be thrown out… so yes I got them at a sales discount but carpe diem and all that  this is not a good return . Before planting each bulb give it a good squeeze and if it is in any way softish don't plant  as not only will it not grow but it could transfer the rot to it's neighbours in the planting hole.
Incidentally I ignore the advice the gardening books and TV programmes hand out about obtaining a " natural " look when planting daffodils by throwing the bulbs in an arc and then planting where they fall ……. and dig an individual hole for each one ?? Too fussy not to mention labour intensive and unless you are planting only about 10 bulbs in total or have a resident gardener , go for digging out planting holes large enough to hold 7, 9 , 11 bulbs, always uneven numbers and in an informal pattern never in straight lines unless lining the front of a border… nature does not do straight lines ! I also don't bother with these special planting gadgets which lift a single plug of earth and you pop the bulb in and cover with the plug again ……. as I said earlier great if you have a resident gardener otherwise go for the large planting hole , pop in your bulbs , back fill and move on .
I also planted some crocus bulbs for Spring flowering under trees and this is a bulb which for some reason I don't traditionally plant a lot of probably because it has such a short two weeks flowering period but last February I was so impressed by a mass planting of crocus that Clonmel Corporation had installed in open grass along the Quay that I decided to change my attitude to crocus … yes they are there for such a short time that blink and you've missed them but such a glorious uplifting sight for that time and I am now a crocus convert ! To me crocus are crocus , all dwarf and reliable unless the mice or the squirrels get to them ( crocus are planted just below the surface and are easy to access  ) .
I plant in bright primary colour drifts as these flower in February when there is precious little cheer about but I broke that rule for a variety named after Joan of Arc which in honour of the Maid of Orleans is pure white …. In the 1970's I visited the site of her execution in Rouen where she was burnt at the stake on 30th May 1431 by the English forces during the Hundred Years War with France .
Primary colours on pots , containers , benches and even on old garden implements brighten up the winter scene in the garden .
Mainly my work this week has been taking advantage of the recent dry weather to get the garden " winter ready " to quote the latest in vogue phrase and I have been doing a lot of tidying up , leaf blowing the paths , grass cutting , some light pruning and taking advantage of the bulb sales to get in some drift planting of daffodils in areas I haven't got around to planting with spring bulbs before .
Gardening should not switch off at the end of November and remain untouched and the garden unvisited until early March as is so often the case and I always feel the mark of a good garden is not how it looks in July with everything in full bloom but how it is in the heart of winter and I have built this garden along those lines with lots of interesting bark such as silver birch and red cornus as well as a few evergreens like viburnum tinus and camellias …. OK it is not the same to stroll down in early December or January but there should be some compensation to see the golden willows , the snow white jacquemontii birch and the red and yellow bark of the various cornus's  lighting up the gloom !
I always plant the cornus elegantissimus as this gives an all year return of red bark in the winter with a silver variegated leaf in summer which I really like and I also go for a yellow variegated leaf …admittedly the bark in winter although nicely red in colour is not the in your face vibrant red of cornus siberica which is always recommended for it's bark but siberica has a dull green leaf throughout the summer which I am not fond of so I go for elegantissimus in preference .
That said today , a wet , miserable late December day , I walked by my group of cornus siberica and it stopped me dead in my tracks such was the impact of the scarlet red bark ….. the first time I saw a mass planting of cornus was in the Kennedy Memorial Park outside New Ross in the early 1970's when I wasen't into gardening and it blew me away such was it's impact and in fact the cornus was the very first plant I researched at the start of my gardening career .
Before I leave the cornus family there is one variety which grows into a small silver and cream leafed tree and this is cornus alternifolia variegata which is more famous as the Layer Cake Tree because of it's shape as it grows into  layers of branches to about three metres high and wide … expensive and slow growing but a knock out of a plant and you see it in all of the great park land gardens …. damp woodland and shade suits it best . I have several three Layer Cake trees all still small which thankfully the deer have left alone and this week I bought a version called  Golden Shadows also known as a Pagoda cornus which has a golden variegated leaf and which can grow into a small layered tree of five metres  but ominously the RHS say it is " not deer proof " …. Oh Dear let's hope they ignore this one !
I always maintain it is relatively easy to have a garden looking reasonable in the Summer , a few roses , a few pots planted up and the lawn cut and looking smart , add in some summer annuals and the odd perennial or two …… and even the smallest of patches  looks OK but the real test for me  is the winter garden and how the garden looks and performs in the inhospitable months of  December to March.
The key to enjoying a garden in winter first of all is access in all weathers and by that I mean create hard surface paths no matter how tiny your garden is as you need to be able to get in and out of the garden with dry shoes or boots and nothing is more of a turn off to going for a walk round the garden if it means slipping and sliding around in muddy conditions .
Back in 2008 when setting out our paths here  we went for a combination of stone trunking laid to a depth of twelve inches because of the wet conditions and topped up with a natural ground stone dust called mill waste and this has weathered in well and proved to be an excellent path material which is easy to maintain …. weeds will come through solid stone  so I go over the paths with a systemic weed killer like round up every three week .
Needless to say a mechanical earth digger comes in handy for these jobs !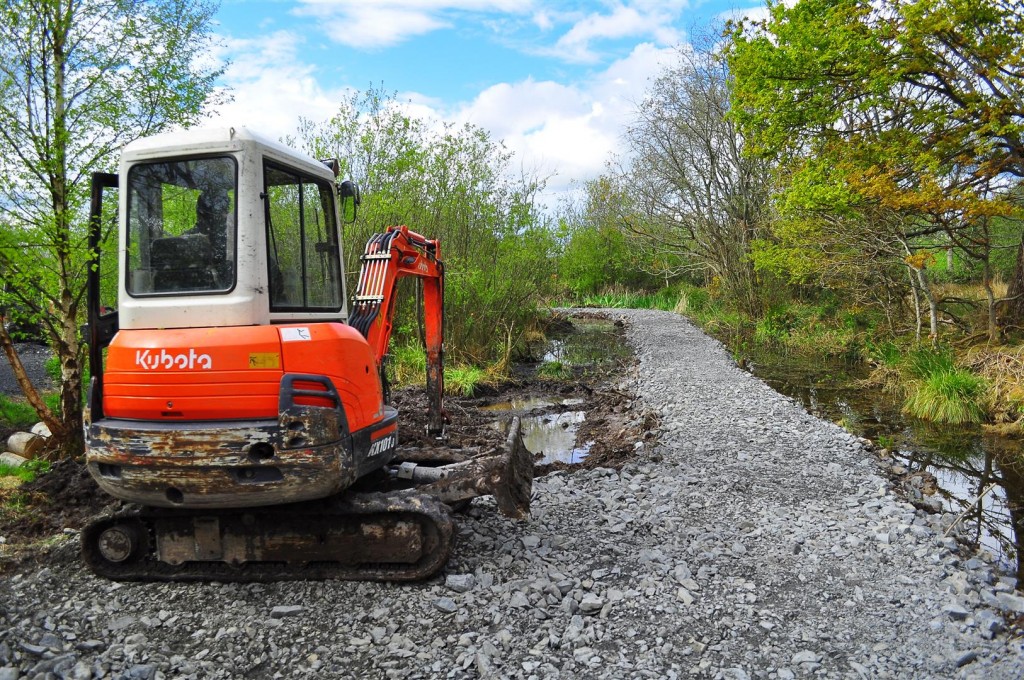 Peter finishing the path with a load of mill waste and rolling it in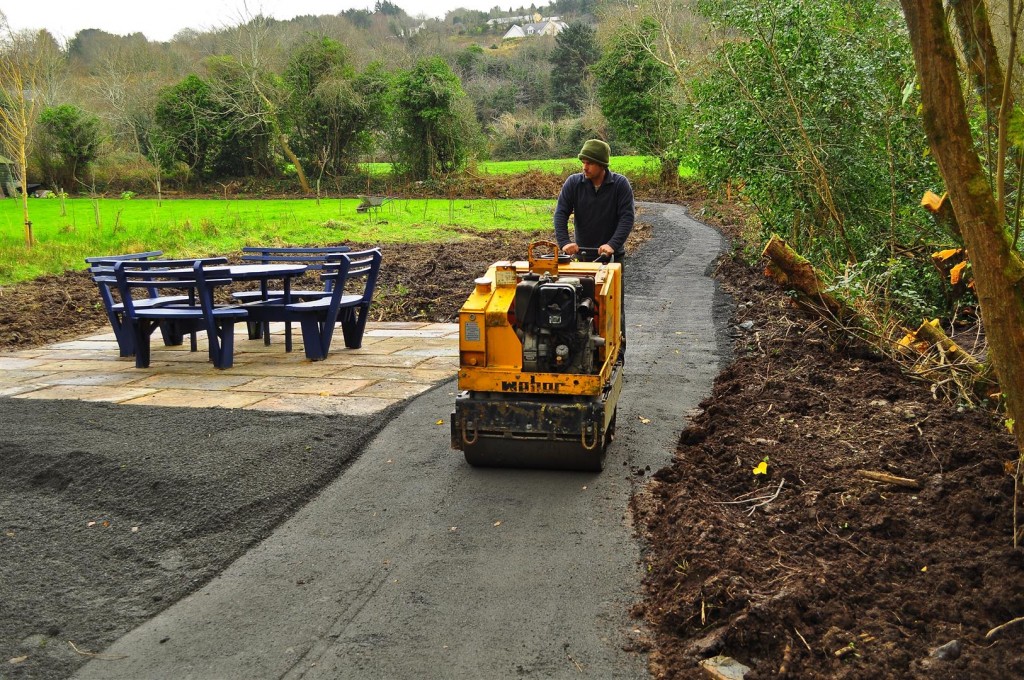 There are lots of plants for winter structure and colour none more so than the silver birch and red stemmed dogwoods I have mentioned  but to these you can add eucalyptus , some copper beech ( it loses its vibrant leaf colour in the winter but the dried leaves stay on until the spring ), a few euphorbia characais and for ground cover nothing beats the the all year round bergenia particularly the big leafed varieties such as elephant's ear which is well named !
Up to a few years ago I always recommended the various phormiums ( New Zealand flax ) and cordyline trees in any planting scheme and they were particularly good for winter structure  but after losing all mine in the two hard winters of 2009 and 2010 when these plants died everywhere in Ireland apart from a few by the sea , I rarely if ever plant phormiums now and never again would take a chance on a cordyline .
For me the most valuable tree in the garden has to be the silver birch jacquemontii which is good in summer with a nice downey green leaf but which really comes into its own in winter with its striking white bark and if you can rise to it try and have at least one multi stemmed silver birch ….these are expensive usually costing 100 euros upwards and the reason they are so expensive is that a genuine multi stemmed takes approx. six to seven years to produce as it involves cutting a fairly mature silver birch down to ground level and then training several strong off shoots to an equal height .. all this before the grower can sell it .
I use the word genuine as there often are multi stemmed produced for sale which are just three or four small single stem silver birches  potted up and grown on and these while OK are not as good looking ( or as natural looking ) as the single thick stemmed specimens .
You may notice I have planted this group of silver birch with four tree which is against my usual quoted uneven numbers and by right there should be only three or five trees here however while there was not enough room in the space available for five trees , three would have not filled the space as well so four it was  ….. rules sometimes can be broken !!
This week I finally finished off the spring bulb planting , a bit late for my liking but took advantage of the plant sales to stock up on miniature daffodils which were being sold off at half price with the majority being yellow tete a tete , a variety I have found very reliable in the past and the finished flower is about 7/ 8 inches high which comes through the gales unbowed and doesen't blow over in wind like it's big brothers . I also planted a mixture of small white iris I haven't seen before plus about one hundred crocus bulbs and overall since October I have planted over 2000 bulbs  …. it is not true that one of my christmas presents this year is a voucher for a visit to the chiropractor !!
Finally to leave on a festive note as it is Christmas I took this photo of a friendly robin who visits my breakfast tray most mornings ……. enjoy and a Happy Christmas to all !!