The unusual spell of dry weather these past four weeks has meant that I have been able to spend a lot more time in the garden and as a result am way ahead of my normal schedule but the combination of the dry summer coupled with this mild autumn has meant the leaves have stayed longer on the trees but when they started to come down …. they came down with a vengeance ! Normally I am not phased out by fallen leaves and have had no problem leaving them pile up and have accepted it as natural and always wondered at the fixation other gardeners had about clearing and sweeping  them up . Those happy days are no more  and there was so many leaves on the ground all at once instead of the leaf fall being spread across three months as is normally the case so I went out and bought a long plastic rake and collected huge piles of leaves which then were laboriously picked up , some to be bagged in black plastic sacks and stored for 12 months when they will have turned into luscious compost while others were wheel barrowed to various planted beds to act as a mulch .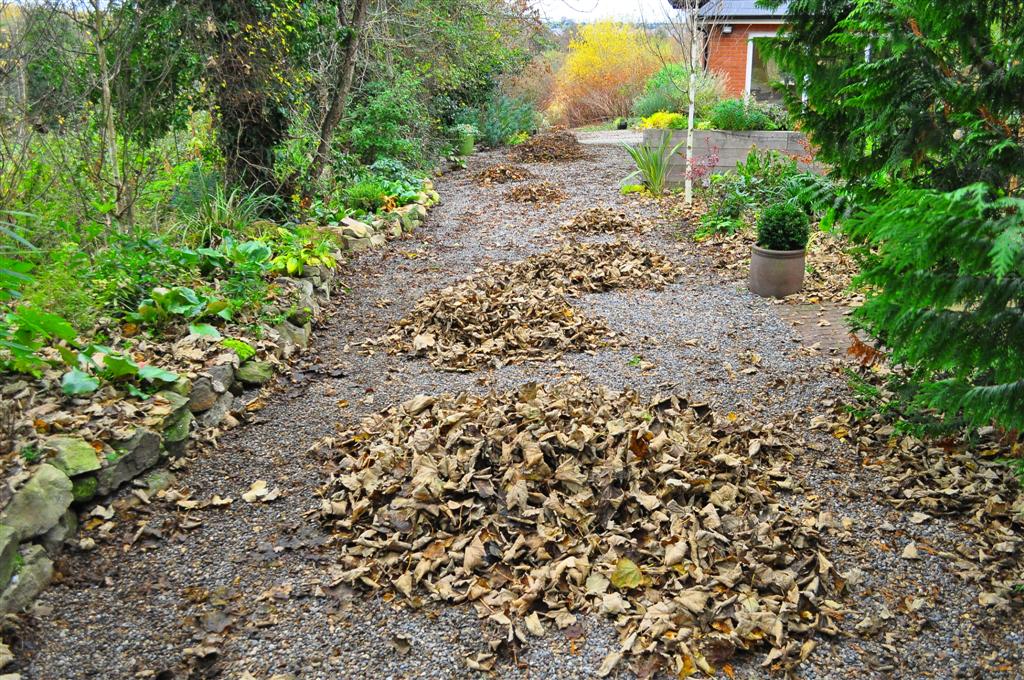 Then a eureka moment when Peter Cullen left me his professional leaf blower for a few hours … I had always looked with suspicion on leaf blowers as the normal ones I saw all seemed to have been bought  in Woodies or Aldis for around 100 euros and had the power of your average hair dryer , worked for a month and packed up . But this machine was a Stihl professional blower the size of a large rucksack  with a 2 stroke petrol motor which blew like a hurricane and I would think all my leaves are now piled up at the Main Guard in Clonmel !
My next phone call was to Pat Cleere who sells all those really big boys toys for the garden and I have guaranteed my three sons and daughter will work for free in the shop for the next three months and that all their pocket money will go to him also … so watch out leaves !  
Someone admired the groups silver birch in my immediate back garden and wanted to know where was the best place to buy similar , I advised that one had to be careful in buying silver birch if you wanted the pure white barked variety … mine were bought root balled from a nursery but that again with root balled trees even though you get a more mature and bigger tree for your buck that there can be problems .
The first problem is with the colour as unless you are careful the tree may not have paper white bark which is what you are looking for and the key word here is jacquemontii and there are several varieties such as silver shadow, paper birch , himalayan birch etc. but my rule of thumb is if it is not white when you buy it in the garden centre or nursery then it won't ever colour up as you might want it and you will be left with a slightly dirty looking bark  . …white bark is what you are looking for as this gives the most dramatic effect and I know some gardeners who power wash their birch trees  and while I don't go that far I do strip all the lower branches away when the tree is 4/5 years old in order to display the white bark better .
The second problem is with the roots and this generally only is a problem with trees bought in a tree nursery where the trees are lifted each year and the roots restricted  i.e. cut back to allow the tree to be lifted easily each year before its final sale and the problem here is with untrained nursery staff who cut too much of the roots away in the yearly pruning  and the tree never recovers properly and in worst case scenario will die in a year or two after you plant it out as the pruned roots are no longer large enough to sustain the tree . This is a major problem with buying trees in what is called a root balled state or bare rooted and I have lost  over ten root balled silver birch trees in the past two years … all looked great at planting but never took off and eventually died and when I dug them out and examined the roots they were too small … and even if the tree staggers on from year to year it will never recover and I have three tilias  ( lime trees ) planted as root balled specimens which stagger into life each year but never get stronger and this after six years …. I should dig them out but the tilia is such a beautiful tree I live in hope that they will thrive but the roots had been cut away to nothing .
The dilemma for gardeners is whether to buy a bare rooted or root balled tree as they will be three to four times the size of the tree normally on sale in a garden centre and they will be considerably cheaper also size wise .
If you are going for a root balled tree pick one that is bulky and not too tall as I have found that the taller thin ones have not been looked after in the ground by the nursery and they will have had to hack away at the roots to get the tree out of the ground and chances are the tree will not recover .
This generally only applies to the small nursery who do not have the staff to maintain the trees on a regular basis so what may look like a bargain initially …. Caveat Emptor …. buyer beware !   
The most dramatic effect with a silver birch jacquemontii is if you buy a multi stemmed tree usually sold at two/ three metres high but not cheap and can be up to three times the price of your normal container grown tree as they are expensive to produce but …. you have instant effect . The reason for being so expensive is that the nurseries grow three young silver birch planted together in one container until the roots fuse together to form one tree and they have to maintain  the tree for up to five years before it is mature and ready for sale . Pound for pound if you are just buying one silver birch then better to go for the multi stemmed version as when they are sold  they are quite substantial unlike the containerized single tree which tends to look a bit weedy by comparison and the multi stemmed  look fabulous and will brighten up any position .
I visited Grangemore Nurseries outside Cahir, Co. Tipperary , this week both to buy a multi stemmed tree silver birch but also to see the process of producing a multi stemmed tree and they have a very impressive range of trees for sale and having seen the long winded and careful production I can see that a mature multi stemmed silver birch is worth the investment ,
Last year I had to transplant a weeping silver birch which had grown too near to the golden weeping willow in the front garden as some idiot had planted it too close originally …..  I can't moan too much as I was that idiot in the first place ! Neither tree was being seen to best advantage so we moved the silver birch in January 2013 but it was a mature tree probably too big to move and as the roots had grown huge we had to scoop it out with a digger so it was touch and go if it would survive and to cut a long story short it didn't  …. to replace it took some thought as it had to complement NOT dominate the beautiful weeping willow and also it had to be a show stopper as it was the first tree you saw in the front garden so for me it was a toss up between either an acer griseum, ( the paper bark maple ) which I love but can't normally plant in the lower garden due to the visiting deer and here in the front garden it would be safe as the deer aren't a problem so close to the house …. or a multi stemmed snow white silver birch .
I was in two minds until I visited the Grangemore Nursery and saw their superb multi stemmed birches and I knew I had found my tree .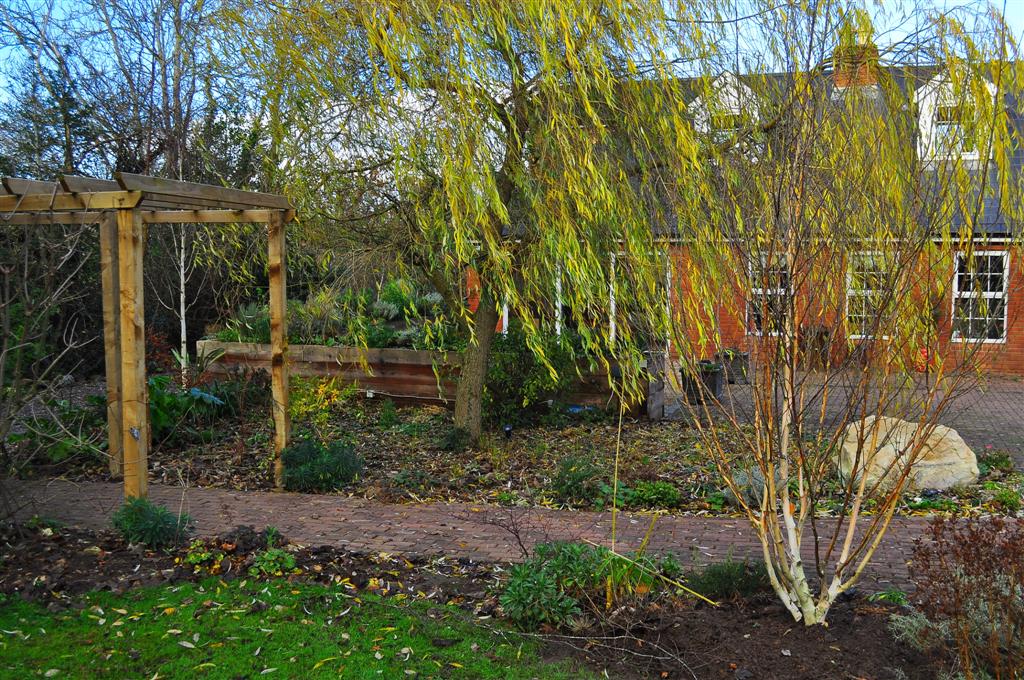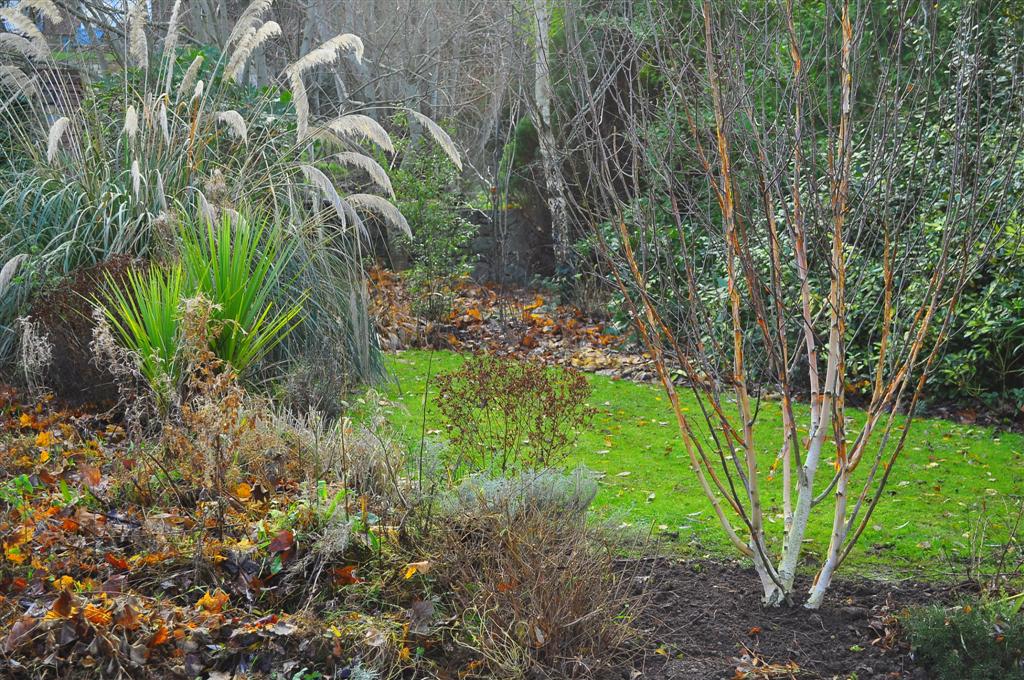 As you can gather I am a big fan of silver birch jaquemontii and If you have the space and the budget there is nothing more dramatic in the garden than a group of three to five silver birch planted three metres apart .  
What I am not a big fan of is where people have not looked after silver birch properly in the first few years after planting and the trees unchecked have shot into the air and now they are cut down to almost half their size in an effort to limit /control their growth and increasingly all over Clonmel you see what was once a fine group of silver birch but are now a sad truncated  bunch with no structure … and they will never look right afterwards .
The solution as with all trees is regular pruning of the leading spur for the first few years after planting and this checks the upward growth and also bulks out the lower tree into a nice shape and I do this top spur pruning with all my trees  starting when first planted as a new tree even though sometimes you hate the thought of taking the secateurs and cutting back up to a half metre of a small enough tree anyway ,,,, but take my word you won't regret being cruel to be kind !